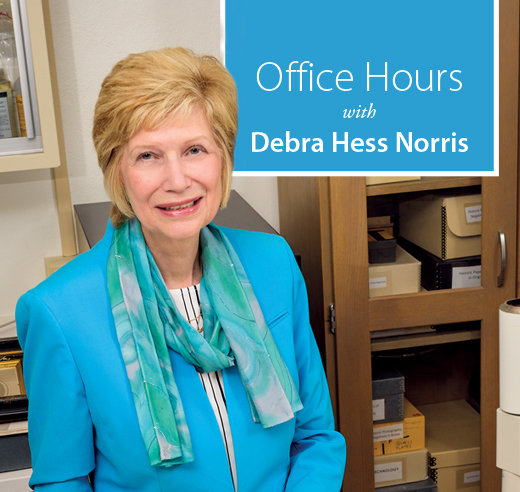 OUR FACULTY | The lyrics are everywhere: Taped to the office bookshelf, inscribed on ceramic tiles, the seven-letter song title—Imagine—even beaded, and wrapped around her wrist.
You may say I'm a dreamer, the signs read. But I'm not the only one.
"People may think that our [conservation treatment] projects or planned preservation initiatives are overly ambitious," Debra Hess Norris, AS77, 80M, says of the damaged and tattered photos she is challenged to conserve, or the global projects she leads. "And there are times I also wonder, 'Is it possible?' The song inspires me to believe that it is."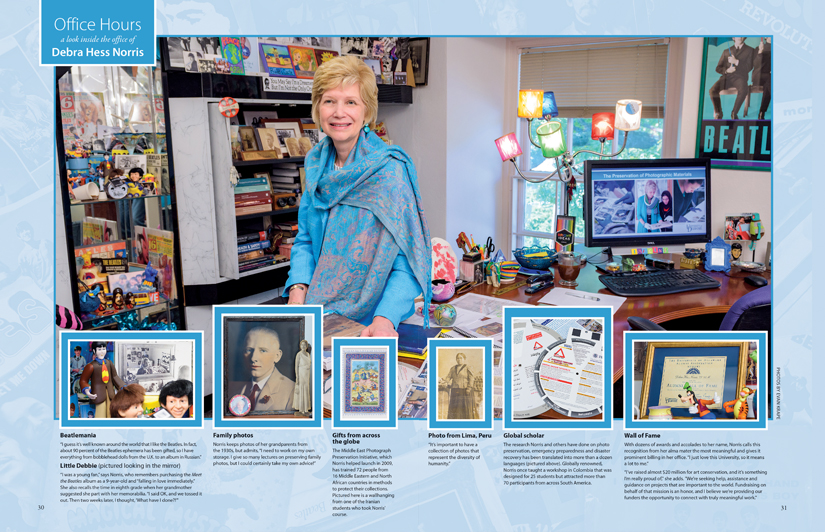 And so, as she sits among her beloved Beatles memorabilia, she imagines. She imagines an Ohio couple who lost their three sons in a tragic house fire can see their faces again, in hundreds of once-charred photos salvaged from the blaze.
She imagines the flood-damaged family albums from Wimberley, Texas, can be repaired, the water-soaked memories restored.
She imagines that the contributions of her field—art conservation, and more specifically, photograph preservation—are of intangible worth and solace across all corners of the globe. Which is why she doesn't just imagine. She works.
Consider all that she has done for the past 30 years—the articles, the books, the accolades; the iconic treasures she has helped preserve (from early Warhols to negatives of the Dead Sea Scrolls); the hundreds of international workshops; the efforts she has led in the Middle East alone, where she has worked with others to train a cadre of conservators in methods that have helped identify nearly 300 photographic collections in some of the most war-torn regions on Earth.
As chair of the art conservation department here at UD (one of only five such programs in North America), Norris has also educated and mentored more than half of all photograph conservators in the country.
When she thinks of her most meaningful work, it always comes back to the students, and to those deeply personal projects where she and her students helped families with profound loss.
As Norris puts it, "Photographs are important. They document history, celebrate greatness, advance knowledge, promote cultural understanding. Most of all, they're personally meaningful. They should be treasured."
Here, we take a look inside the office of the Unidel Henry Francis du Pont Chair in Fine Arts, the newest member of the University of Delaware's Board of Trustees and quite possibly one of the biggest Beatles fan to have ever walked the planet.