The 'hurry-up ump'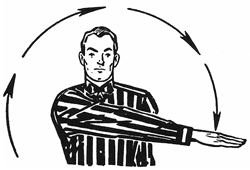 ALUMNI & FRIENDS | Being an official in the National Football League isn't exactly a thankless job, but it sure can come close at times.
In the course of any given weekend, these men in stripes will have their intelligence questioned, their eyesight maligned and their name cursed, all while trying (often unsuccessfully) to avoid collisions with refrigerator-sized athletes intent on physical mayhem.
In other words, it's just the kind of Sunday afternoon fun that UD alumni and former Blue Hen linebackers Jim Quirk and Scott Green learned to adore.
Both Quirk, EHD63, and Green, AS73, have emerged as two of the best-known officials ever to work the game, thanks to long careers on the field and in the top ranks of their union, where they have both served as president and refereed Super Bowls (three for Green; one for Quirk). While neither is actively officiating now, the memories of their game days endure.
For Quirk, 77, it was that 1989 playoff game between the Bears and Packers where his call on a crucial play was overruled after an instant replay—leading Green Bay to win in what is forever remembered as "The Instant Replay Game." Or maybe it was the day in 1999 when he tackled a 275-pound player to break up a fight, or the incident in 2007 when he grabbed a linebacker around the neck and pulled him to the ground to end a scuffle.
He's also proud of being nicknamed the "hurry-up ump" for his ability to hustle teams along, a crucial skill in an age of lucrative TV viewership.