The Macaron Master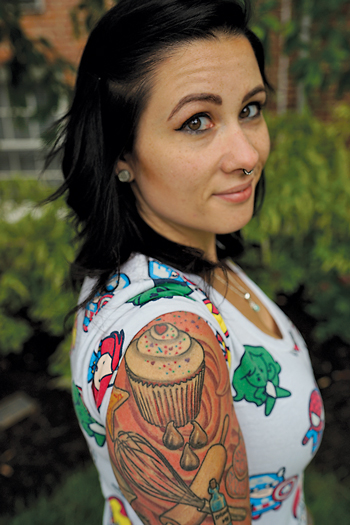 ALUMNI & FRIENDS | They're delicate little treats, so delicious, so devilishly hard to make, with the power to inspire devotion at first bite.
Just ask Danni Keenan, HS19M. This 32-year-old mother-of-one and former UD English major has found herself swept up in a passion not entirely of her choosing, and gained a reputation she frankly did not expect to create, simply because she excels in one of the baking profession's most loathsome chores: creating the airy, creamy, notoriously tricky treats called macarons.
These aren't your grandmother's "macaroons," mind you. True French macarons bear little resemblance to Italian macaroons, and typically come in the form of two domed shells sandwiching a sweet filling—ranging from fruit jam to cookie-crumb-fortified icing.
Keenan's come in a boggling array of creative flavors (Fruity Pebbles, Key Lime Pie), which she promotes on her "BabyCakes Dessert" Instagram page. Her creations are also quickly snatched up by local restaurants and cafes, including Newark's Stone Balloon Ale House.
It all began inauspiciously, when Keenan decided she had no desire to pursue teaching and dove head-first into culinary school. Soon, her trademark cupcake tattoo caught the eye of a local restaurateur, and she found herself a job as pastry chef at a succession of Delaware restaurants. Meanwhile, word-of-mouth spread her reputation, and soon she was baking fanciful birthday cakes and other treats for variety of clients.
But it's the macarons that truly inspire her muse. "I try to make it art," says Keenan, who is now pursuing a master's degree in dietetics to align her education more closely with her passion. "In order to be successful, you have to be dedicated."