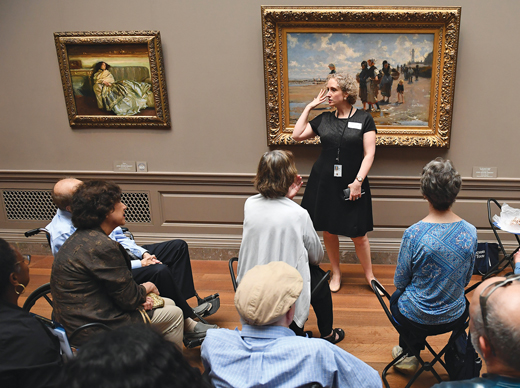 Photo © 2017, Matt McClain:The Washington Post
Connections to Collections
Alumna's program at the National Gallery of Art
engages people with memory loss
by Ann Manser, AS73
ALUMNI & FRIENDS | With collections that range from Italian Renaissance paintings to contemporary American photography, an adjacent sculpture garden and special events such as jazz performances and children's programs, the National Gallery of Art seems to have something for everyone. Lorena Bradford's mission is to make sure everyone can enjoy it.
Bradford, who earned her doctorate in art history at UD in 2011 while working at the National Gallery, is now its head of accessible programs. In that position, which she has held since it was created just over two years ago, her goal is to engage people—especially those who might not always feel able to appreciate a museum's offerings—with the National Gallery and its world-class collections.
"I see myself as an ambassador for access," says Bradford, AS11PhD. "We want to create space for people to connect with each other, with us and with our collection."
Her department offers programs for people who are deaf or hard of hearing, including specialized American Sign Language tours for families with young children, and tours for people who are blind or have low vision. Other programs work with medical professionals and first-year medical students, using art to help them hone such critical patient-focused skills as observation, empathy and communication.
Earlier this year, Bradford says, she examined her department's busy schedule and decided she could make time to launch one new type of program. She considered which additional populations the gallery might serve, researched what services were currently available to those groups in the Washington area and settled on a need she thought the museum could address.
"I found that there weren't many programs of this type for people with memory loss and their care partners," Bradford says of what is now called "Just Us at the National Gallery of Art," a pilot program that began this spring and is expected to continue on a permanent basis in the fall. The program has proved popular, with a waiting list for eager participants throughout the summer, especially after it was featured in The Washington Post.
"We want to make sure that everybody has a way to engage with us, and this is a population that wants to engage," Bradford says of those with memory loss and the loved ones who care for them. "And, as the general population ages, the need for memory-loss programs is only going to increase."
On a recent Monday afternoon at the gallery, about a dozen people arrived to take part in a "Just Us" tour, some using wheelchairs and others walking with a partner or caregiver. Bradford and her colleagues, all trained in offering the program by the New York-based nonprofit Arts and Minds, cheerfully greeted each visitor in the building's lobby and introduced themselves.
After taking an elevator to the second floor, the group gathered in front of Rembrandt's The Mill, where folding chairs were set up to allow for a close and unobstructed view of the painting. Tour leader Julia Langley began by asking participants to take a deep breath and to give themselves time to slowly scan the work of art, moving their gaze from top to bottom and side to side.
Guided by observations and low-key questions from Langley, those in the group began offering their thoughts about what they were seeing, what various aspects of the painting might mean and what emotions it evoked. The 90-minute "Just Us" tours typically focus on three works of art that fit a general theme, such as family portraits or water views. The goal is for participants to enjoy an experience that's almost like a meditation on a work of art, rather than to encourage them to learn facts or recall particular memories.
"Sharing memories is always welcome, but that's not the goal of this program," Bradford says. "We want to create positive experiences for them and their care partners."
Because the participants have different degrees of memory loss, Bradford says the tour leaders choose works that are open to a wide range of interpretations, and they let their audiences determine the direction of each discussion.
"The program is completely interactive and driven by what they are interested in, what they want," she says. "We stay very much in the moment."
The program provides important social benefits as well, said Dick and Elizabeth Gill of Maryland, who were part of Langley's recent tour.
"I like that we're part of a group, and it's a nice small group, a nice size," Dick Gill said. "And we take our time."
Elizabeth Gill, her husband's caregiver, agreed, saying she appreciates that everyone in the group "is facing similar challenges" in their lives.
"These programs are a real gift," she said. "And this is a very expensive disease. If there weren't programs like this that are free of charge, people couldn't afford to participate."