From our Alumni Association
A Q&A with new UD Alumni Association President Steve Beattie, BE87
What were the highlights of your time at UD?
Why come back?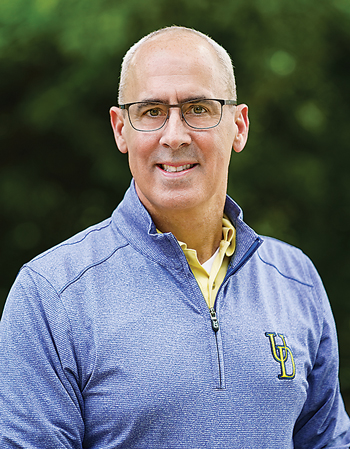 There were so many—lifelong friends, a diverse foundation of education and experience that guides me to this day, varsity sports (shoutout to the swim team!), and of course, meeting my wife, Kim (Double-Dels for 28 years). I had so many professors who challenged me, mentors who guided me and friends who inspired me to do more, that the culture of learning, growing and being part of a special community were the unforgettable highlights. I don't often mention it but also being awarded the UDAA Taylor Award was a humbling experience that helped define my future focus and taught me I can accomplish anything.
What kept you engaged with the University after graduation?
I'm likely a common story when compared to many alumni. My wife and I graduated together, became buried in the demands of our new jobs, moved to Belgium, then London, then New York. We lost touch with UD over that time. The better question for me is what helped me get RE-engaged. About 10 years ago, we were invited back for an event, and we had one of those eye-opening moments where we both realized we were missing out on a great experience by not being involved. That simple visit evolved into reconnecting with swimming friends, meeting more of the administration and then mentoring students, attending Alumni Weekend and, of course, becoming active within the UD Alumni Association. I've often thought of the time we weren't involved and recognize now that those were years where we could have had even more fun and remained part of something special.
As president of the UDAA, what do you see as your biggest goal and challenge?
My goal? To be relevant and helpful to the exciting vision shared by President Assanis. His commitment to an increased global reach, prominence when compared to other Universities, and belief that "alone one can go fast, but together, we can go far" really resonated with me. I'm looking forward to being part of a highly committed, energetic Alumni Board and broader alumni community that can help us go far together. The challenge is discovering people who have moved or lost contact, and then sharing the message of re-engagement with conviction. There are so many demands on people's time, but reconnecting with UD, sharing experiences and giving back have all been personally rewarding in my experience.
What's the best way for alumni to stay connected?
I suggest you find the path that means the most to you. Were you in the band? A varsity athlete? Did you work at The Review? Participate in one of the many clubs? In nearly every case, you'll find some point of connection and common bond that can bring you back to the University. Your connection could also start by visiting campus for Alumni Weekend. That remains one of the best weekends of the year for my wife and me, and it's as if we never left. Or, if you want to be truly inspired, attend the Candlelight Induction Ceremony and welcome new students starting their own journey at UD. You may also wish to become a mentor and volunteer at events designed to provide guidance for these students. Or leverage your workplace connections to offer an internship or career support (see more on p. 48). Witness the incredible energy, and it will be easy to stay connected.
What advice would you give to an alumnus who wants to get more involved with UD?
I have found that UD is eager to help you get more involved, starting with the Office of Development and Alumni Relations. You could also connect with one of your favorite professors, or reach out to your respective college or department. But don't wait. I wish I had stayed connected all along.