Your Thoughts
Who is America?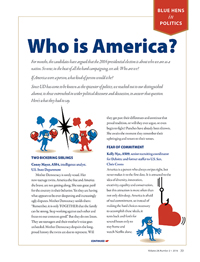 It was with great interest that I read your latest issue of the Messenger and "Who is America."
I completed ROTC training at Delaware and was commissioned second lieutenant in the Army in 1971. It was during my specialty school, Medical Service, that we were informed that the Army didn't require any more officers for the Vietnam conflict. I came back and joined the Delaware Reserves.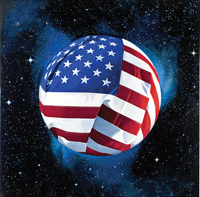 This was a time when the military was disrespected more than any other conflict, due mostly to the public's rejection of the war in Vietnam. (I believe it was still photographs that appeared in Time of the war's atrocities that ended it.) I knew military who dressed in civilian clothes in airports coming back to avoid harassment. It was also the era of "Love it, or leave it." The flag and flag decals became a symbol of professed patriotism.
Today there is this professed praise for our soldiers in name only, as Congress keeps chipping away at pay, benefits and retirement while they increase all of this for themselves.
I've been a full-time painter/artist since 1999, and the painting (inset), "The World as We Americans See It," was created in 2011 and ironically purchase by an Italian for his home in Rome.
—Thomas Stiltz, AS69, 72M
Walking the walk
While UD may have several well-known alums in the political arena, I am proudest of alumni like Joe McDonough, AS83, who founded the B+ Foundation, and countless others who donate their time and talent for the greater good.  There is lots of talk about making a difference, but people like Joe walk the walk.  May they be an inspiration to us all to be positive and help make our world a better place each day.  I think they represent "who America can be."
Thank you UD Messenger for raising awareness of these alums and their charitable contributions.  
—Tom Frey, EG84, 90M
Warm praise
What did you do with this issue that's new? It's terrific! Each article was very interesting, and "Who Is America?" added a good interplay with your readers. I read it cover-to-cover while traveling, and it made me very proud to be an alumna of the University of Delaware. You have a winner here.... Keep it going!
—Barbara Derrickson Giudici, AS64
Kind words continue
I was delighted to receive the September issue of UD Messenger. After taking an opportunity to review this volume, I am impressed with the creativity and thoughtfulness that has been put into this issue and would like to offer kudos for a job well done. I look forward to receiving and reading future issues.
—Steven J. Stanhope, UD Associate Deputy Provost for Research and Scholarship
Update to Blue Hens in Politics
While our last issue recognized a sampling of alumni "stars," it left out some important names, including: Second Lady Jill Biden, AS75, EHD06M; U.S. Sen. Tom Carper, BE75; Delaware Secretary of Agriculture Ed Kee, AS73, 75M; Delaware State Senator Greg Lavelle, BE87; Legislative Director Sean Snyder, BE09; Delaware State Senator Bryan Townsend, BE03; and Foreign Affairs Officer David Way, AS79.
We imagine our list is still inconclusive, so if your name (or the name of a friend, relative, colleague or other Blue Hen) is missing, please reach out to TheMessenger@udel.edu and let us know. It is a profound honor to recognize the many alumni working to make a difference in politics.
We want to hear from you.
Submit a letter, either by mail to UD Messenger, 83 East Main St., Newark, DE 19716, or by email to TheMessenger@udel.edu. Please include your full name, graduation year and contact information. Letters may be edited for length, clarity and style.