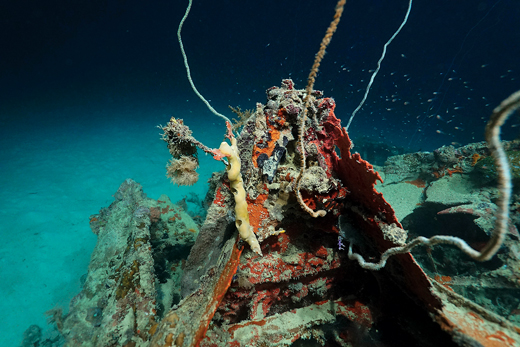 Photos courtesy of Project Recover
Gone but not forgotten
OUR UD | Dec. 7, 2016, marks 75 years since the attack on Pearl Harbor catapulted the U.S. into World War II. Sixteen million Americans served during the war, with more than 400,000 making the ultimate sacrifice. Even today, more than 73,000 of those Americans remain unaccounted for, leaving little closure for families of the fallen.
More than half of the missing in action—and actually more than half of all MIAs within the last century—are the result of battles in the Pacific theatre. Countless aircraft and crewmembers met their end in the waters of the Pacific, and on the islands that dot the surface.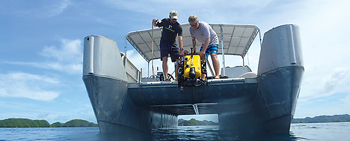 For decades now, those Americans have been gone—but not forgotten.
Through Project Recover, a unique private-public partnership, scientists, historians, archaeologists and military experts are on a mission to find those who never got a chance to come home.
Discoveries at sea
Since 2010, Mark Moline of UD's College of Earth, Ocean, and Environment and Eric Terrill of Scripps Institution of Oceanography at the University of California San Diego have used sophisticated technology to model the complex flow of water around the coral reefs, lagoons and islands of Palau. Their annual expeditions, funded by the Office of Naval Research, were closely focused on currents, tidal impact on water movement and the effects of super-typhoons on beaches and coral reefs.
Donor gives wings to Project Recover
The most recent Project Recover find, a TBM-1C Avenger missing since July 1944, was made possible by a substantial financial commitment from Dan Friedkin, founder and chairman of Air Force Heritage Flight Foundation and chairman of Gulf States Toyota and The Friedkin Group. As a member of the Project Recover team, Friedkin's continued support is helping sustain ongoing missions, while enabling the organization to innovate its technology and expand its search and discovery efforts to focus areas around the globe.
"This recovery is another step closer towards Project Recover's goal of finding the final underwater resting places of all Americans missing in action since World War II," said Friedkin, one of nine civilian Heritage Flight pilots qualified to fly in formation with U.S. Air Force single-ship demonstration teams. "As someone who gained a passion for flying and admiration for our country's brave service members as a child, I will continue to support the efforts of Project Recover and their partner organizations. Every family member impacted by the loss of a service member deserves this type of closure."
During their fieldwork, the researchers crossed paths with BentProp, a group dedicated to returning missing WWII servicemen to the U.S. For the past 20 years, the group has conducted historical research, documented firsthand accounts and launched annual search expeditions for missing aircraft. Scattered among the lagoon waters and coral reefs of Palau's island chain, and concealed within its dense mangrove forests, several dozen U.S. aircraft and the remains of as many as 80 U.S. airmen are waiting to be found.
As they compared projects, Moline and Terrill realized that the underwater robotics technology they used for their scientific work could significantly enhance BentProp's search efforts, and in 2012 kicked off collaborative missions combining science and technology with in-depth archival and historical research to locate aircraft.
"About the time that we realized we were at the limit of our capabilities, we met the folks from UD and Scripps. Their technology changed everything," says BentProp founder Pat Scannon. The collaboration led to the discovery of two long-lost planes in 2014, and another in 2015. The work has been profiled on the CBS news magazine 60 Minutes and in a video by the mounted camera company GoPro.
Expanding the mission
In early 2016, efforts would accelerate, thanks in large part to a substantial gift from Dan Friedkin, founder and chairman of Air Force Heritage Flight Foundation and chairman of Gulf States Toyota and The Friedkin Group. The collaboration was rebranded Project Recover and expanded beyond Palau, where searchers will use historical data from many sources to narrow underwater search regions with scanning sonars, high-definition and thermal cameras, advanced diving and unmanned aerial and underwater robotic technologies.
Project Recover's most recent find was a TBM-1C Avenger torpedo bomber missing since July 1944, discovered in Palauan waters in the spring of 2016.
"The importance of our mission is reinforced with each new discovery of a missing aircraft," Terrill says. "But this is more than reconnecting with history; it's about locating the missing to enable the U.S. government to bring them home for a proper burial."
Repatriating MIAs
The discoveries start the process of repatriating the MIAs through proper government channels. Information about wreck locations is shared with the U.S. Defense MIA/POW Accounting Agency, which determines whether servicemen's remains can be returned to the United States. DPAA handles formal identification, family notification and ultimately repatriation.
"Our work in Palau has meant closure for families of fallen airmen, and we hope that through continued collective missions, and collaborations with DPAA, that we can continue to discover wreck locations, and work to bring these servicemen home," Moline says.