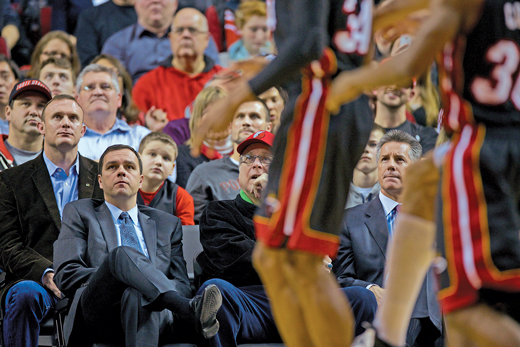 Photo by Jamie Francis, courtesy of the Oregonian
A Q&A with
Chris McGowan
Portland Trail Blazers President and CEO
OUR UD | Some graduates in the first years of their careers need a little time to settle in, build up steam and start their climb. Then there are the alumni who seem destined to rise fast and go far.
Chris McGowan, AS96, is one of those shooting stars. By age 34, he was chief operating officer of the NHL's Los Angeles Kings. By age 38, he had been named to the exclusive "Forty Under 40" list by the Sports Business Journal. And by 39, he was one of the youngest CEOs in the NBA, taking the helm of the Portland Trail Blazers and its complex of venues.
In all of those ventures, he was hailed for bringing new vibrancy and boosting revenue—inspiring a newfound love for hockey among Angelinos, and driving higher ticket sales and concert bookings in Portland.
McGowan, who played soccer as a UD undergraduate and was team captain his senior year, credits the student-athlete experience for helping instill the discipline and time-management skills needed for running such complex business organizations. To him, the campus was the perfect fit, and the perfect preparation, for a life in the front lines of big-league sports.
Q: You've accomplished so much in your career. Tell us a little about being CEO of an NBA team.
A: The skill sets needed to be CEO of a sports and entertainment company are similar to any CEO job—great management skills, ability to generate revenue and represent the organization publicly. I oversee an organization of 220 full-time employees. My main responsibilities on the team side are Ticket Sales, Sponsorship Sales, Digital Media, Marketing, Social Responsibility, Communications and Public Relations, Legal, Finance, Information Technology, Broadcast Operations and Human Resources. I also oversee our arena company—Rip City Management—responsible for running Moda Center [home of the Trail Blazers], Veterans Memorial Coliseum and The Rose Quarter entertainment complex.
Q: So it's about far more than basketball. What goes into running the arena business?
A: Our main area of focus is to ensure we are booking the building with the latest concerts and events, run a great food and beverage operation and have top-notch guest relations. Our fans often behave like shareholders in a company, paying close attention to almost everything—especially wins and losses.
Q: When you were with the Los Angeles Kings, it's been said that you conquered a formidable challenge by growing the fan base there. How did you pull that off?
A: It was definitely tough, especially when the team went seven years without making the playoffs! However, when times are tough in our business, you have to get super-creative to entice fans to want to come to games even when you aren't winning. In the case of the Kings, we invested heavily in the overall experience, so it was more than just a hockey game. We did fan fests outside the arena, pre- and post-game concerts, created a new mascot, invested in laser and light shows.
Q: And how did the fans respond?
A: All of this made the games fun for fans, even if the team wasn't winning on the ice. Fortunately, all the pain of missing the playoffs for several years paid off when we won the Stanley Cup in 2012. Being a major part of an organization that won a championship was something that I will never forget.
Q: Tell us a little about your experiences and memories at UD.
A: I lived on campus one year, at Dickinson A. It was a bit away from all the action, but it was an Honors dorm at the time, so it was a good environment to keep focused on my studies during my freshman year. A lot of my best memories are related to playing soccer for the University. We weren't the best team record-wise, but I value the experience and most importantly the relationships I developed with teammates.
Q: It sounds like UD's still in your heart, in a way.
A: Yes, I still stay in touch with my teammates and several of them are my best friends now. We all love reminiscing about our times at UD. I love the feel of the campus. To this day, I believe Delaware is one of the most beautiful college campuses in the country. Football games on a brisk fall day were always a lot of fun, too.
Q: In an academic and personal sense, how did UD shape you as a person and prepare you as a professional?
A: Collegiate athletics taught me how to weather the ups and downs of competing. I use this over the course of an 82-game NBA season while running the Trail Blazers. You can't get too high when things are going great, and at the same time you can't get too low when things aren't going as planned. If you remain consistent and positive, usually things work out in the end—especially if you put enough time and energy into it.