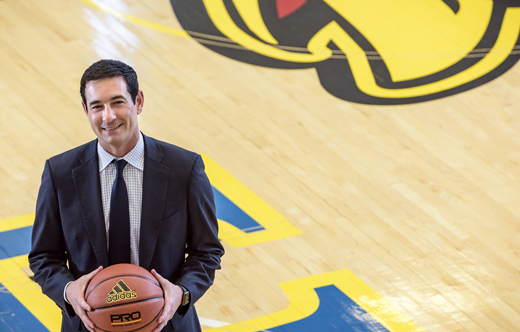 New coach, new hope
OUR UD | From the day he arrived on campus, Martin Ingelsby couldn't wait for it all to start…the squeak of sneakers on hardwood, the roars that bounce around The Bob, and the sweet, swishing sounds of a buzzer-beating shot.
Most of all, Ingelsby couldn't wait to finally put the focus of the men's basketball team where it belongs—on a future that's newly infused with hope and energy after a time of uncertainty and change. "We want to be able to blow the roof off The Bob with 5,000 people in there rockin' and rollin'," says the Fightin' Blue Hens' new coach, who arrived in Newark after a long career playing and coaching at Notre Dame, and was immediately challenged with piecing together a team that had been in limbo after the loss of their last coach.
So the 38-year-old Berwyn, Pennsylvania, native hit the highway, roaming the country for fresh talent, and piecing together a coaching staff of eager, hard-driving assistants. They scrambled to stem the tide of veteran players who were at risk of bailing out, convincing five of them to stay.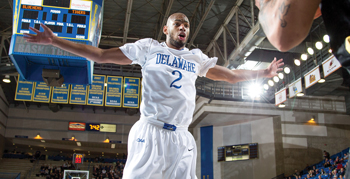 "Martin demands excellence in all that he does and has a keen focus on getting young men to go beyond their limits academically, athletically and in the community," UD Director of Athletics and Recreation Services Chrissi Rawak says. "He will have an immediate impact not only on our basketball program, but on our entire department."
From day one, Ingelsby warned his newly reconstructed team that the fresh spirit of hope would come only with long hours and sweat-soaked days of hard work. "But things have to change and get harder for us to be able to grow as a basketball team," he says. Blue Hen fans deserve no less.
"I learned quickly why the University of Delaware is a special place. Our students and faculty are extremely committed. Our alumni and fans are passionate. They want something to get excited about, and we want to give that to them."
That sense of Hen-loving pride is something that Ingelsby was familiar with long before he arrived on campus, thanks to a long stint as assistant for Mike Brey, the former UD head coach who's now regarded as the savior of Notre Dame's once-limping program. "I'm where I am today because of Mike's guidance and tutelage," says Ingelsby, who helped lead the Irish to eight NCAA Tournament appearances. "I learned from him that it's not about you, it's about your ability to mentor the players, to lead them to grow and mature. It's about being positive. You have to hold them accountable. But you also have to have a good relationship. If you do, they'll run through a brick wall for you."
His days at Notre Dame also taught him that a coach's job isn't to over-manage each move and over-choreograph each play once his players hit the court. "We want to foster that up-tempo, free-flowing style of play," he says. "It's about giving them freedom, giving them your trust. I don't want them to be robots."
Ultimately, this new mix of players, some new, some veterans, will grow to become a family of sorts, each committed to his own self-improvement, but also to each other, and to seeing themselves atop the CAA standings.
"I feel like my entire life has been building up to this opportunity," Ingelsby says. "We're going to come in every day and keep working, keep improving. We want them to see us in February, and say, 'Where did Delaware come from?'"
For a full schedule of UD basketball visit www.bluehens.com