MVP to furniture maker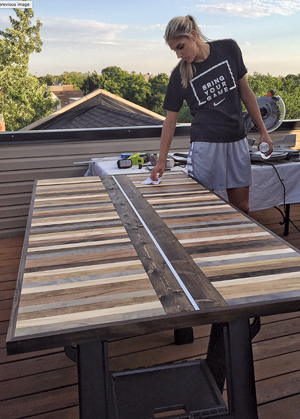 Photo courtesy of DelleDonne Designs/elenadelledonne.com
OUR UD | This summer, UD's star basketballer helped lead Team USA to a gold medal at the Rio Olympics, marking her achievement with characteristic style: On the day of the victory, Elena Delle Donne, EHD13, and Nike teamed up to give every child born at Christiana Hospital in Delaware a new pair of shoes.
"It all starts now," read the message tucked in with the sneakers. "20 years ago, it started in Wilmington (Del.) for a little champ just like you. And today Elena Delle Donne conquered the world."
In the case of Delle Donne, that passion is continuing off the court.
As if she weren't busy enough making television commercials, posing for Vogue and Glamour magazine spreads or sinking yet another free throw for the Chicago Sky, the WNBA MVP, Olympic gold medalist and Blue Hen record-holder has leapt wholeheartedly into the artisanal furniture business, spending her spare time building and marketing a line of modern-styled, wood-topped tables through her website, elenadelledonne.com.
Part off-court therapy, part creative passion, the fledgling business has been attracting attention around Chicago, where she's a certifiable celebrity worshipped for her can-do spirit and generous nature. In Delaware, her creations have already been snapped up by such customers as Carl Doubét Jr. Jewelers, which installed two 6-foot tables from the 6-foot-5 star at the Brandywine Hundred store.
In Delle Donne's case, making the jump from hardwood to hammer wasn't as preposterous as it might sound. Since she was a tyke, she's loved to build and tinker, and a Lego set occupied many an idle afternoon. Later in life, she discovered a passion for shop class and do-it-yourself projects, and still holds a true couch-potato's devotion to DIY TV shows.
When she saw the stylish wood designs being done by her friend Megan Gainey, HS11, she saw a way to turn her passions into products. Working on the rooftop of her Chicago apartment building with fiancé Amanda Clifton and her Great Dane, Wrigley, Delle Donne finishes a table every couple weeks or so, selling them for $350-$1,250 online.
"I really enjoy it as an outlet away from basketball," she says.