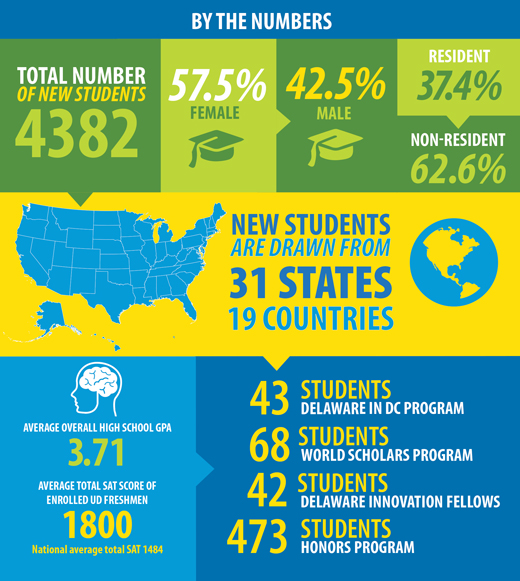 Snapshot: Class of 2020
OUR STUDENTS | They make up one of our smartest classes, with an average SAT and GPA of 1800 and 3.71, respectively.* One of our most diverse, too. And while a good number of them come from in state (1,642; 94 percent of all Delawareans were offered admission), many hail from all corners of the globe. In fact, the Class of 2020 is the most internationally diverse cohort in the University's history, with more students from more countries (19 to be exact) choosing to study in Newark, Delaware.
So, why UD?
For one, says admissions director Doug Zander, we're smaller than most of our competitors (Penn State, Rutgers, the University of Maryland).
"We boast a strong sense of community, too," he says. "We bond around the 'Blue Hen tradition,' our alumni have great memories of their time here, and we must be doing something right because most of the students who come here, stay here." (UD's retention rate is 91 percent, compared to the national average of 77 percent.)
Ranked 30th among national public universities and 79th among all national universities in the U.S. News and World Report's Best Colleges 2017 edition, UD was also included in the Princeton Review's The Best 381 Colleges 2017, which noted the campus was "full of students with pride, ambition and eagerness to make impact during the college years and beyond."
Zander agrees. "Today's student has a sincere interest in civic engagement, in doing good," he says. "They want to change the world and believe they can."