From Our President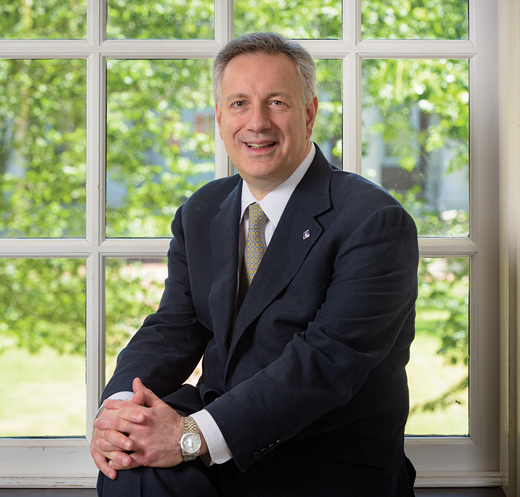 Greetings, Blue Hens!
My first semester as president of the University of Delaware has been nothing short of amazing, filled with new friends, new ideas and new opportunities. Our journey together is off to a great start, and your support and enthusiasm have been instrumental to our early successes. As I've gotten to know UD, I've enjoyed hearing ideas from so many of you about where we want to go and how we'll get there as an institution.
We want to make sure all students achieve academic and personal success at UD. So we're enhancing our efforts to mentor and guide them, beginning on their first day as freshmen and continuing all the way to Commencement.
We're building an environment of inclusive excellence, one that values the full breadth of human differences and prepares students to live and work in an increasingly diverse world. Our faculty and staff are essential to this effort, as are a robust curriculum and a welcoming culture.
We must invest in great people and the facilities where they can do their best work. This includes promoting a research ethos in every discipline and at all levels of the University. I believe every undergraduate student should engage in research to distinguish them from their peers at other institutions and, more importantly, to expose them to the thrill of true discovery.
Furthermore, to solve the world's most complex problems, we'll need to strengthen our interdisciplinary and global programs. Addressing climate change, poverty, sustainable energy and other challenges requires the coordination of multiple disciplines and the commitment of everyone as global citizens.
And as technology opens new paths to the future, we have an opportunity—even an obligation—to further cultivate a spirit of innovation and entrepreneurship throughout the University. We can amplify the impact of our faculty and the knowledge they create, and we can equip our students with the tools to launch their own ventures, form nonprofit organizations or simply succeed in a radically different 21st century workplace.
None of these priorities stands apart from the others, and none of them will displace the excellent work that has been the lifeblood of our institution for more than 270 years. Together, we can build on our strengths and aspire to new heights.
Our vision for the University is indeed grand, so we must be equally ambitious in pursuing the resources necessary to realize it. Your generous support for UD's mission and its people is essential. As we begin the holiday season of giving and gratitude, Eleni and I thank you and wish you a safe and enjoyable time with your family and friends.
Dennis Assanis
President, University of Delaware