The Kosher Coupon Lady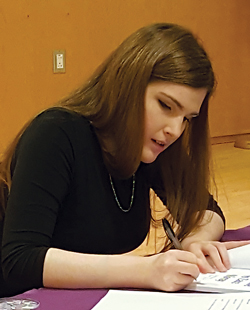 Photo courtesy of Miriam Wartell
ALUMNI & FRIENDS | Miriam Wartell, AS11, describes herself as "weirdly intuitive and savvy" when it comes to saving money.
At 12 years old, she'd pack most of her babysitting money away and march straight to the clearance rack with the rest. At 21, she'd call product manufacturers directly to ask for additional coupons. Today, the art alumna is a self-employed entrepreneur whose business and website, TheKosherCouponLady.com, aims to help others learn the tricks that have led to her own financial health.
Her first book, I Don't Have Time to Save Money, was published last year in response to repeated comments from friends who wanted to do what she did but lamented their lack of time. "There's no excuse," says Wartell, who spends about an hour couponing each week and gets items like pasta, toothpaste and shampoo for free.
Wartell launched her Kosher Coupon Lady website in 2012, selecting the name in response to the high costs of kosher meat and cheese. "There's not much you can do to lower the price [of kosher foods], but there are ways to offset other costs." Indeed, she has cut her monthly bills in half and once reduced a $255.88 bill down to a mere 11 cents.
College, she says, is the perfect place to adopt smart saving strategies. As a UD student, she would always look for better deals and prices.
"There's no better time to start learning this stuff," she adds. "Students need to be able to stretch a dollar, and couponing allows them to do so."
Tips from the Kosher Coupon Lady
Watch for "sale cycles": Popular brands run on sale cycles, which means that they take turns promoting their items. Typically, each competing brand will be one sale for one week per month. That is when its prices are lowest. (Example: General Mills cereal on sale one week, Kellogg's cereal the next week). If you make a point to look at your local store ads, you'll start to pick up on when your favorite brands go on sale.
Stack coupons to maximize savings: You'll want to whip your coupons out when an item's price is at its lowest. Keep in mind, there are actually different types of coupons and ways to combine them. For instance, you can generally use one manufacturer's coupon, one store coupon and one e-coupon per item. I call that 'The Savings Sandwich.'
Buy the right amount: To avoid paying full price, stock up when prices are lowest. You're going to want to buy enough of the item to last you until it goes on sale again (usually about a month's worth). This prevents you from having to pay retail price when the item shows up on your shopping list. However, it's very important not to overbuy, a mistake new couponers tend to make.