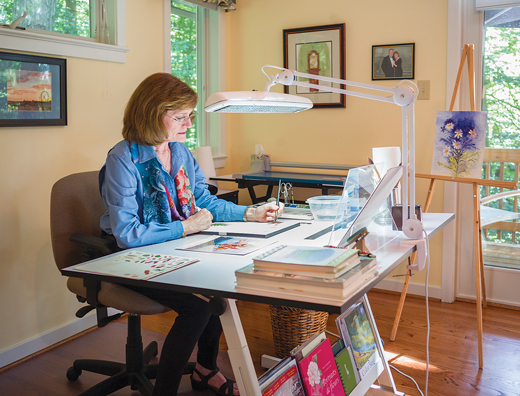 Photo by Evan Krape
Blue Hen Artist
ALUMNI & FRIENDS | People who get to know Darelle Riabov usually aren't too shocked when they hear what she has done for a living: Professional cheerleader. Secondary school teacher. Public relations and marketing expert.
A career spent inspiring excitement in others has served Riabov well in her post-professional years, lifting this peppy alumna to near-legendary status on campus as an untiring UD advocate and donor.
For the past decade, Riabov, AS73, and husband John, ANR75, have been reliable sights at a seemingly ceaseless series of University events, always working to get one more student or yet another alum to catch an incurable case of Blue Hen fever.
In addition to supporting student-athletes through the Darelle Lake Riabov and John Riabov Volleyball Scholarship, the Double Dels extend the UD passion to their home in leafy nearby Pennsylvania, where the interior design takes on an unmistakable blue-and-gold tint. "You can't go in any room without seeing the Blue Hen stuff on the walls," says Riabov, who recently ended a term as president of UD's Alumni Association.
For Riabov, such unstinting passion was a perfectly suitable postscript to a busy career. It's a passion that's even finding its way into her newest love in life—painting. Long known among UD administrators for her hand-painted thank-you notes, Riabov recently moved up to something more suitable for hanging, creating a Blue Hen watercolor as a parting gift for outgoing UDAA board members.
More UD-related art—and UD-championing work—are sure to come from her restless mind and decidedly un-retiring retirement years. "She's the best ambassador this institution could ever have," says Lauren Simione, BE95, UD's director of alumni engagement. "If I could just clone Darelle, this University would be an even more amazing institution."