A novel career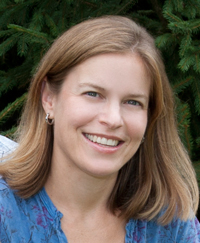 ALUMNI & FRIENDS | Maggie Leffler always knew she wanted to be a doctor. And she always sensed the need to indulge her passion for writing.
Then, her mother made a suggestion that seemed a little outlandish: Why not do both? Thanks to her mom's encouragement and some inspirational instruction from UD English professors, Leffler, AS94, has published three novels in the space of eight years—even as she builds her practice as a family physician and raises a family of her own at her home outside of Pittsburgh.
"It's really a good balance for me," says Leffler, who is a 2011 recipient of UD's Presidential Citation for Outstanding Achievement. "As a physician, I enjoy seeing patients and interacting with people. But writing is being in your own little world, and I love being in that world."
Ultimately, she believes, her passions even work to support and enhance each other.
Leffler published her first novel, The Diagnosis of Love, in 2007, even before she graduated medical school. The tale of a young doctor's journey to heal her own heart after her mother's death echoed her own ordeals—Leffler's mother had recently passed away. Her second novel, The Goodbye Cousins, tells of two estranged cousins who are suddenly thrown together and confronted with truths about their own lives and their family's hidden past.
"As a physician, you're listening to stories and you're trying to arrange them in a way that makes sense and distilling out the details of what's affecting someone. It's editing in a way," she says. "You're listening, you're trying to help, and that in turn helps in the creation of characters that people can empathize with."
Her new novel, Secrets of Flight, was released earlier this spring and takes readers from the skies of World War II to the present day.