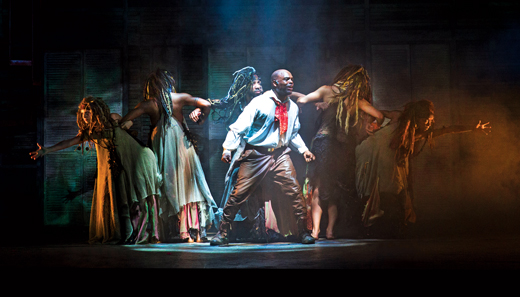 Photo by Richard Termine
Protecting the Crown
ALUMNI & FRIENDS | The outdoor amphitheater of Marcus Garvey Park is packed most July nights, the stands filled with hundreds of people of all races and ages, tuning out the Harlem traffic and the occasional siren's wail, to focus instead on the stage.
There, three witches prophesy an ambitious man's ascent to power, his ultimate descent to madness still to come.
Macbeth may have been a dark selection for this year's Uptown Shakespeare in the Park, a three-week run of the Bard's classics, now in its fourth year, but "the Scottish play" offers brief moments of levity too. Like when a porter with minimal lines breaks out bawdy Bill Cosby impressions. Or when the drummers on stage play a '90s reggae song after the death of King Duncan. "Mur-da she wrote," the crowd sings and sways along.
It is a seemingly fitting display of theatre as it was intended in Shakespeare's day: loud and crowded and for the people.
Stories of community
Ty Jones, AS92, 95M, likes it this way. As producing artistic director for the Classical Theatre of Harlem (CTH), which puts on the annual production of Uptown Shakespeare in the Park, he believes in theatre's centuries-old legacy of community and unification. It's in his words, in his voice; in the handshakes he exchanges with friends and strangers alike; and most vividly and profoundly, in his work and vision.
He wants to change the face of American theatre.
When Jones took on the role of CTH director in 2009, the company was nearly $400,000 in debt. They could have easily closed doors. "But I believed the body of work we'd done before—on the backs of young, hungry, vulnerable actors of color—was important. That it needed to be protected."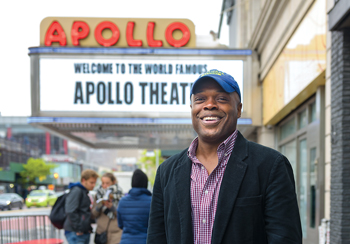 Photo by Evan Krape
In 2010, the company produced nothing but readings—no sets, no costumes: just actors and a script. The following year, Jones helped CTH establish Project Classics, a theatre arts program for children in public housing who were interested in reading Shakespeare and learning how to interpret texts and dramatize works of their own. By 2012, CTH was able to launch Uptown Shakespeare in the Park, a $250,000 counterpart to the $2 million annual Central Park production. (As it happened, both companies did The Tempest last year, with The New Yorker, Huffington Post and others hailing CTH for the superior show. Jones is quick to dismiss the comparison. "It's not a fair one, firstly, but it was never the point. All we want to do is to complement the summer season with another option.")
To date, Jones has single-handedly raised nearly $2 million for CTH, a notable feat in a funding environment he describes as "often hostile, unresponsive or merely making gestures to theatres of color."
And still, he says, more needs to be done. As friends, colleagues, coworkers and community partners all agree: He is just the man to do it.
Withstanding the rain
"I've yet to meet a fiercer advocate for theatre in the community than Ty," says Jason Delane, a member of the CTH board and a Los Angeles-based actor who starred as Macduff in the recent Uptown Shakespeare in the Park production. As an example, Delane recalls the past Fourth of July weekend, at the very start of the show's run, when debris from heavy storms blocked the drains of the vast community center roof and threatened to ruin the costumes, lighting, sound and other high-tech equipment stored beneath.
Jones learned of the situation shortly after midnight. The city would only intervene for a broken pipe, not for flooding, so he left his house, flashlight in hand, and headed to the park. Using a ladder to reach the roof, he stood in water some 7 inches deep, reached his hands down the drain pipes and cleared them himself.
"There is not a false bone in the man's body," says Erika Elliott, artistic director for SummerStage/City Parks Foundation, which helps fund the free Uptown Shakespeare festival.
"I'm in awe of his ability to bring theatre to life," she says. "He is bringing Shakespeare to Harlem, people to the play, something he loves so deeply—theatre—to his neighborhood."
The power of theatre
It is a goal with deep roots.
When Jones recalls his years in regional theatre, he has no anger at the roles for which he was never cast. He knew he'd never have trouble landing Tybalt or Benvolio. "Directors didn't want a black Romeo, and I get it," he says. "But just let me audition. Let me make it hard for you to say no."
In some ways, Jones' mission with the CTH is reminiscent of Chris Rock's opening monologue at the past year's Oscars, when diversity—or lack thereof—loomed over the night.
"It's not about boycotting anything," said Rock. "It's just, we want opportunity. We want black actors to get the same opportunities as white actors."
Jones, who received UD's Presidential Citation for Outstanding Achievement in 2002 and the College of Arts and Sciences Alumni Achievement Award earlier this year, spoke of this larger battle for access when he returned to campus this spring.
"The best way to combat the legacy of racism is through multiple fronts," he said, delivering the University's annual Paul R. Jones Lecture, which honors the legacy of the late Paul Jones (no relation), and his gift of African American art to the University in 2001.
"Some folks engage racism by being a student of history—and I don't mean just academics," he continued. "It means having the humanity to observe the world through a prism of another person's experience."
That, according to Jones, is the power of theatre.
"Theatre is about connecting with folk, seeing a reflection of self and the world in which we live," he says. "When you do that, you see that we're much more alike than we are different."
The tree of hope
This month, Jones and the CTH made their debut on the main stage of the Apollo Theater with an original Christmas production, The First Noel, described as "Black Nativity meets The Christmas Carol."
"When people come to New York to see the Rockettes at Radio City or the tree in Rockefeller Center, my hope is that they'll make it up here, too," he says. "Changing the face of American theatre doesn't mean changing it for everyone; it means adding another perspective, another voice, another story."
He says this while sitting on stage of the Apollo Theater, the world's most famous venue of African American music and culture. Beside him is the legendary Apollo tree stump, rubbed for good luck by every entertainer to have ever set foot on its stage, from Duke Ellington to Michael Jackson.
As the story goes, the original elm tree stood on the sidewalk between the Lafayette Theater, Harlem's primary venue for African American performers in the 1930s, and Seventh Avenue, informally dubbed "the Boulevard of Dreams." Unemployed entertainers would perform before the trunk in hopes of getting noticed by an influential passerby, and when it was torn down for road construction, everyone ran to grab a piece.
The largest portion remains on the stage of the Apollo. It is hollow in the middle, its rings blurred and varnished by the passing of time, and it bears a poetic resemblance to a wooden thumb print.
Jones rubs it as he walks on the stage that will serve as home to his cast and crew in just weeks. He rubs it for tradition, for hope, and for his ultimate mission: to "protect the crown."
He laughs as soon as the words come out. It's an admittedly clichéd, "just-for-fun aphorism," he says of the phrase, a homage to the company's four-pointed burgundy logo.
And yet he sees its truth and feels its weight.
"Whatever we present through our lens is a way of preserving our culture," he says. "We're coming into a time when we're owning ourselves—not at the expense of anyone else. We're just saying, 'What we do matters.'"