The Myth of the Superlative
The Paul R. Jones Collection of African American Art is housed in UD's Mechanical Hall and part of the larger Paul R. Jones Initiative that aims to strengthen the collection and its interconnectivity with campus life and community.
On March 10, 2016, the University held its annual Paul R. Jones Lecture, featuring alumnus Ty Jones, AS92, 95M, the producing artistic director of the Classical Theatre of Harlem. Jones earned a BFA in communications and a Masters in Fine Arts from UD's Professional Theatre Training Program–an experience that "set the path to shaping the man I am today."

The following is an excerpt from his talk.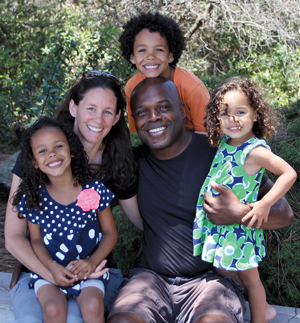 Photo courtesy of Ty Jones
ALUMNI & FRIENDS | Growing up, I was one of those kids whose parents told them that they had to work twice as hard to get half as much. And though I am certain that this was about my mother having her son strive for educational excellence, my 6-year-old mind needed more preparation for the kind of historical burden that compelled her to share this black pearl of wisdom.
There is a part of me that feels a kinship with the man we honor today, Paul R. Jones, though we are of no direct relation of which I am aware. Nothing short of remarkable was the wholesale narrative of this man. But as I read about him, there were a couple of stories that stuck out and relate to what I'm going to speak about today. One is that Paul's interest in the arts began to blossom in the early 1960s when a sidewalk vendor selling prints of works by the "masters" caught his eye. Then, as a college student, Paul was a victim of the restrictive Jim Crow laws of his native and beloved South, having been denied admission to law school because of his race.
That stopped me in my tracks.
You see, Mr. Jones came out of his mother's womb as we all do: perfect. There was nothing wrong with him or his race that was the cause of him not being admitted. Rather, there was an institution that was deliberately devised, deliberately constructed and deliberately maintained by a consensus of people whose inferiority complex was disguised as supremacy, who consciously endorsed the plunder, the theft, the heist of a people whose melanin is more expressed than his neighbor's.
I will not likely ever understand the psyche of a person who believes their destiny is to be realized at expense of another human being, who erects symbols that manifest that exploitation, and who then declares their ascension is superlative.
My research on Mr. Jones for this keynote was as illuminating and uplifting as the collection that bears his name. He himself was a work of art. My interpretation of his collection is that he set out not to necessarily dismantle the Eurocentric interpretation of "masterful" art, but rather to complicate that superlative by introducing and raising the profile of works by Romare Bearden, Elizabeth Catlett, Jacob Lawrence, Carrie Mae Weems and other black artists. To combat racism by preserving American culture as seen through the lens of the black experience.
My children are learning about the peculiar institution right now in school and at home, where both my wife and I try to talk about it in the context of institutional racism. Some folks are like, "Wait, your kids are 5, 7 and 9. Can't you give them a break?" I say, no. Because that's around the age when kids learn hate.
The best way to combat the legacy of racism is through multiple fronts. Racism is a cancer. Cancer will replicate itself until it kills the host. Doctors talk about cancer being intelligent. That it can "hide out." That it can keep itself from being detected. Racism does the same thing. It shifts and it changes and sometimes it's very difficult to recognize. Some folks engage racism by being a student of history and having the humanity to observe the world through a prism of another person's experience. Some folks create coalitions. Some folks keep their head down and learn a trade. Some folks, in defending themselves, go on the offense, like Nat Turner. Or you can be like Paul Jones and play the long game. Each one of these strategies has its own merit.
I can't begin to tell you how many times I've had a beer with some well-meaning person who says, "I bear no responsibility for what happened in the past. It's just time to get over it." So I tend to offer them this analogy for black people in the United States: It's somewhat like a game of Monopoly, and you're playing against people who have all the property, all the money, and make all the rules. And not only do you have to play this game, you play it naked. You come to the game with nothing. You play it for over 350 years and the only person who accumulates wealth, over those 15 generations, is the person with whom you're playing. And along those three-and-a-half centuries, they were able to name streets, buildings, municipalities, counties and states as a constant reminder, unwittingly or not, of the myth of their supremacy.
And in spite of these vile, despicable rules and declarations, despite the fact that you came to the game with nothing, you persevered. You acquired Boardwalk and Park Place, put some property on it, only to have it taken away through violence and policy. Right about now, we're onto our second beer, and I continue to emphasize that even with the foul legacy that expresses itself in criminal justice, housing, mass incarceration, education, health care, the achievements of black Americans are EXTRA-ordinary. To create something from nothing. There's nothing more theatrical than that. We created our existence from nothing and we are here today because of our intellectual excellence. We are here today because of our cultural excellence. We continue to do the difficult job of unplugging ourselves from the myths of these superlatives we've internalized over the centuries.
And the reality is, there is no Utopia. When you hear folks say, "We go'n get there one day," there is no there. All we have is right now, and we can be co-creators in our destiny to forge the future we want right now.
When he gifted his work, Paul Jones had the presence of mind to insist on using it to assert how art intersects with anthropology, with science, with social justice, with literature. And this man from Bessemer, Alabama, probably knew there was going to be no Utopia, and yet still he put a strategy in place, played the long game, remained composed, created a coalition and gained consensus to ensure the that the recognition of these artists is as ongoing and sustained as Ben Franklin's face on the $100 bill.
Racism is insidious. It's subtle. It's cunning.
But I am optimistic because we've come out on the other side of slavery, Jim Crow, lynchings, assassinations. And though much work continues, I would assert that the promise of progress is palpable.
I always will be optimistic. Especially when I look at my children's faces. When I look at this room of people, who took time out of their day to hear me speak, I'm optimistic. I'm an optimist, whose eyes are wide open to the work of my alma mater, to the leadership here at the University of Delaware who remain vigilant.
On a good day, I'm 5-foot-9, but I feel like I'm 10 feet tall knowing that my school put together a blueprint, an action plan, for inclusive excellence.
In conclusion, I invoke the words of a great unknown UD scholar who said, "No Blue Hen can soar on one wing alone."