Eating away at poverty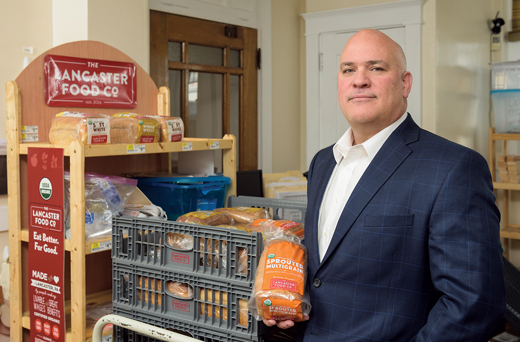 Photo by Evan Krape
ALUMNI & FRIENDS | During his time in the tech industry, Charlie Crystle, AS90, surely saw his share of success. He founded the business software company ChiliSoft, which sold for $70 million in 2000, and Mission Research, the leading software provider to the nonprofit sector. Life, by many measures, was good.
Seeing all he had been given—and all that some in his hometown of Lancaster, Pennsylvania, still lacked—the 49-year-old entrepreneur decided a few years ago that it was time to start giving back.
So in 2013 he opened a food company and began changing lives.
At the Lancaster Food Company, Crystle makes sure that healthy servings of social justice are mixed generously into the products he sells. All employees earn $14 an hour, a rate nearly double Pennsylvania's minimum wage. All hiring is done with a view toward lifting people out of poverty—especially those who might have had difficulties gaining employment because of educational gaps, language barriers or legal troubles.
"While I could make money and donate to nonprofits that treat the symptoms," he says, "I had this gnawing feeling there was a way to treat the root cause of a lot of our problems."
Crystle joins a growing number of successful entrepreneurs—from Mark Zuckerberg to Bill Gates—who have decided to put their money toward those in need. His direct and unapologetic approach to addressing that need, however, is rare.
"In our country, employers are willing to pay poverty wages, and then we wonder why there's poverty," Crystle says. "It's hard to pay people well, but we built it into the model. If someone works for you, they should be paid an honest day's pay for an honest day's work. It's an old belief that needs to be brought back."
A quality product
At the same time Crystle is engaging in some social justice, he's also mindful of creating a good product. The company now sells four varieties of breads, three spreads and maple syrup—all USDA Certified Organic and made from locally sourced ingredients when possible.
"We want to support the local food ecosystem. It's an important part of our economy," Crystle says. "Feeding people with healthy food that we feel safe and comfortable giving to our families is a significant part of it, too. We can't make an impact without building a profitable company, and you can't do that without amazing products."
It's a sentiment validated by sales, as customers have made Lancaster Food's sprouted multigrain bread and sunflower seed with sea salt spread some of their sandwich-making favorites. Their items can be purchased at over 100 stores and restaurants from Washington, D.C., up to New York City, including supermarkets Whole Foods and ShopRite, as well as places like the Fair Food Farmstand in Philly's Reading Terminal Market.
Soon Crystle hopes to be along the entire East Coast, thanks in part to another manufacturing location in Lancaster. Jobs will grow, too. Currently staffed at 15, Lancaster Food plans to add at least another 85 positions, and this year, all staffers will have access to stock options, Crystle says. Up to 30 percent of the company will be employee-owned, and their pay could jump to as high as $20 an hour.
Overcoming a moral failure
Not surprisingly, Lancaster Food doesn't contend with a high turnover rate and the subsequent hassle and expense of constantly hiring and training new employees.
"If you provide a good job, employees don't want to leave," he says, noting he owes much of his company's success to those who might not have gotten a shot elsewhere. "It's humbling to see how powerful our people can be in the context of the production team. You just have to give them a chance."
It's a lesson Crystle believes other companies, regardless of the industry, should take to heart.
"If we look at businesses as just a way of making money, we're not understanding the full impact that we can have," he says. "Business can be used as a vehicle to reach our highest aspirations as a society."
Crystle does what he can to spread his message beyond his own company. Inspired by a favorite history class at UD, he got involved in politics and last summer became an adviser to Pennsylvania Gov. Tom Wolf's workforce development board. He offers advice on unemployment and jobs, with fair wages a frequent topic of conversation.
"Poverty is the moral failure of our time, and $7.25 an hour is a poverty wage," Crystle stresses. "I believe that as a society we have the power—and should exercise it—to declare poverty as unacceptable and require employers to pay a livable wage. It's both a moral and societal responsibility."
Article by Mike Bederka