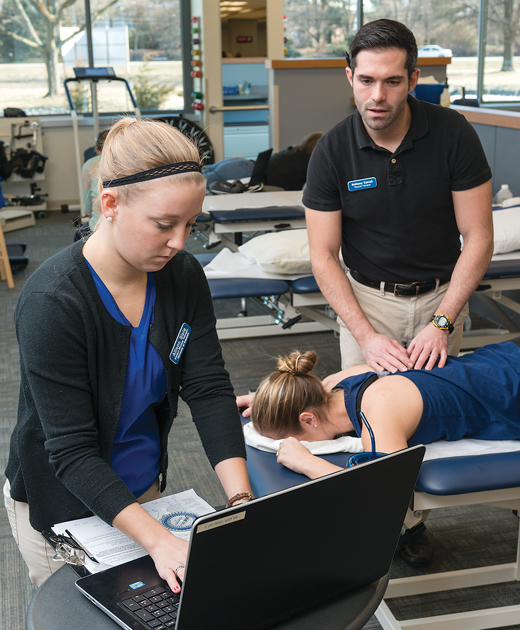 Photo by Evan Krape
PT Program: No. 1
OUR UD | For a long time, students and patients have believed it. For years, employers have known it. Now, it's official.
UD's physical therapy graduate program is first in the nation.
That's the assessment of the 2017 edition of U.S. News and World Report's Best Schools, widely considered the nation's premier collegiate rankings guide. While UD's PT program has enjoyed Top-10 status for years, the No. 1 ranking—shared with three other schools—helps validate the groundbreaking research and strong clinic-based approach that the program has built on its 272-acre Science, Technology and Advanced Research (STAR) Campus.
"Our clinic really is what sets us apart from everyone else," says Gregory E. Hicks, professor and physical therapy department chair. "Moving down to STAR in 2014 made a big difference. Our old clinic in the McKinly Laboratory basement had very little room. People would say: 'I can't believe you guys do all that in this space.'"
With twice as much room to accommodate more patients and new equipment, the program's capabilities accelerated, and UD's appeal to top students and scholars grew. Faculty research began to leap even further toward the cutting edge, resulting in such widely hailed projects as Lynn Snyder-Mackler's orthopedic rehabilitation efforts; Cole Galloway's work to get disabled children moving with his GoBabyGo cars; and Darcy Reisman's work in stroke rehabilitation.
"Our faculty absolutely are leaders in the field," Hicks says. "People know us because we are changing the face of the profession."
That name recognition reaches beyond the halls of academia, to the patients in the local community and into the private sector. Because UD's clinic allows students to practice what they learn, employers consistently see UD graduates as better prepared and ready to excel. "The clinic allows us to vet our students before they even walk out the door," Hicks adds. "When our students go out, they're ready."
Heel-raise Exercise
We asked faculty from our #1 PT program to share some tips with readers on how to incorporate basic exercises into their daily routine.
In our efforts to stay fit and limber, they said, we often forget one set of muscles that are key to our balance, stability and ability to walk—the calf muscles. Calf weakness has been shown to raise the risk of falls in older adults, as well as the possibility of injury while running and other exercises.
Here are some tips* on keeping those calf muscles and Achilles tendons healthy from Karin Grävare Silbernagel, an assistant professor in the Department of Physical Therapy:
* Ability to perform these exercises will vary by individual