Getting to know President Assanis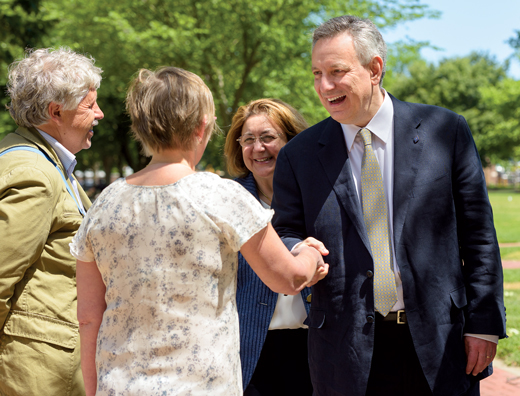 OUR UD | Shortly after being named UD's 28th president, Dennis Assanis was asked to sum up his leadership style. "If you want to go fast, go alone. But if you want to go far, go together."
Through a life that has led him from high-seas adventures to the halls of higher learning, UD's new leader has come to embrace the reality that big strides occur only when everyone walks together.
That philosophy of progress through collaboration—that sense that an organization must advance by using all of its assets—has deep roots in Assanis' personal life and professional career.
Here, we learn more about both from our new president, Dennis Assanis.
Q: Tell us about your background and family.
A: My mother is from Kalamata in Greece, the place where they have all the great olives and olive oil. They have some of the nicest beaches in the Peloponnese, so every summer I loved vacationing there. I was born and raised in Athens, and I spent the first 18 years of my life in Greece. My father was initially a sea captain in the Merchant Marine; hence, at an early age, I developed some interest in and passion for marine engineering and everything related to shipping.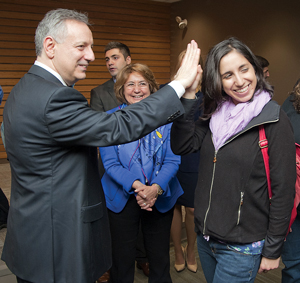 Q: How long was your father gone when he was on voyages?
A: My father spent about 25 years of his life on voyages, so he would be gone anywhere from six months to a year and a half. My mother and I would occasionally travel with him, and I remember fondly a trip from Brazil to Romania. This is an amazing experience if you're 14 or 15 years old and you're in a 100,000-deadweight-ton vessel, and you have those big diesel engines, which are like a three-story building immersed at sea level. Fascinated by the vast scale of these transportation/propulsion systems, I spent most my time in the engine compartment in the company of the ship's engineers. That was where I developed my love for engineering.
Q: Were you the kind of kid who wanted to build things or tear things apart?
A: I'm a builder and thinker. I always like to visualize how things work, but aspire beyond the physical design, construction and internal processes. I really want to know what drives the whole system as it relates to the surrounding environment.
Q: What brought you to the United States?
A: I still remember walking by the National University of Athens as a child and hearing my father tell me, 'If you're a really smart guy, you will do something in academia.' My real passion in life was always to study in the U.S., because I've always admired the U.S. system of higher education. It's truly world class. In fact, one of the institutions that initially attracted me to the U.S. was the University of Delaware and its globally renowned chemical engineering program. But ultimately my love for marine engineering won over and led me to England.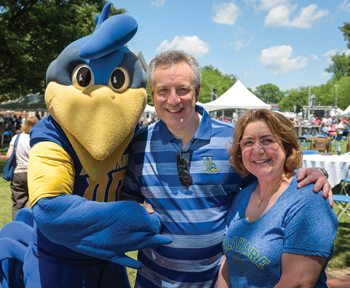 As soon as I graduated with my first degree, I felt the drive to learn more and truly wanted to come to experience the U.S. I went to the Massachusetts Institute of Technology (MIT) and almost never escaped. I stayed there for five years and pursued four different degrees, starting with my master's in marine engineering and naval architecture.
Q: And one of those was an MBA ...
A: I owe that to my wife, Eleni, who was really connected with the business world. She encouraged me to look into management, so I applied to the MBA program at MIT's Sloan School of Management.
I learned a lot. For example, think of the way we design products today. It relies on teamwork and collaboration—across different cultures, backgrounds and even national borders. I developed a new appreciation for that kind of approach. It also taught me to think strategically, to understand markets, competition, strengths, weaknesses and opportunities.
Q: How do you apply the engineering mindset to university administration?
A: When I led the Energy Institute at the University of Michigan, I quickly realized that no problems in the world can be solved by engineering alone. You see the multidimensional type of thinking that is entailed. I gained incredible exposure to different fields, some of which have profoundly changed my thinking, from journalism to conservation to many more.
I am an engineer by training, but when dealing with problems, I think beyond the numbers. I am interested in people, in the social dimensions of decisions; how to listen, how to appreciate one person from another, how to build the right culture, the right teamwork, the right environment. You've got to be multidisciplinary in your thinking and multidimensional in your approach.
Q: You are a big proponent of global education and study abroad.
A: Absolutely. Our students need to learn to live in a global society. Today's world is more interconnected than ever before, so they need those skills. They should know how to live abroad, how to work abroad, how to interact with students of different backgrounds. I'm really excited about the possibilities that we have here at UD, and I want to see us continue to expand our global thinking and programming.
Q: What do you see as UD's biggest opportunity?
A: The STAR Campus [UD's 272-acre Science, Technology and Advanced Research property] is really our chance to create the meta-university, the university of tomorrow, the dream place where academia meets industry and meets the world. It is the place of dreams, of possibilities—from sciences and engineering, to social sciences and humanities, to the arts and medicine. We have some unusual opportunities, because we can start without boundaries; we can put our imagination and vision to work.
We could set up different types of interactive spaces, different classrooms, new living-learning communities where practitioners and educators come together to innovate and translate their knowledge into products for the benefit of society. In particular, the STAR Campus can be the beating heart of the state of Delaware. The world is thirsty for innovation and for the industries of tomorrow, and I think some of those can be invented by our students and faculty and other industry players right here in Newark.
Q: How do we realize that potential of the STAR Campus?
A: We need a strong, inclusive vision, that's first. We're doing some amazing things in the health sciences and some in energy, but there are many, many other opportunities. Certainly I would like to emphasize creativity and innovation in that space, and how we translate knowledge to practice. That's an ideal place to do it. I'm always dreaming of the next big thing. And sometimes it's easy to say; it's not so easy to implement, so we have some hard work ahead of us: vision, engagement, implementation, resources.
But I think we can bring it all together.
Q: Any other thoughts about moving the University forward?
A: I would like to continue expanding our public policy and social sciences education, research and civic engagement. The campus intellectual community would really see a great deal of vibrancy out of that. So that's one area.
Another is the merger of Dow and DuPont [a proposal when Messenger went to press]. This, I believe, will create some unique opportunities for the University to partner in innovation with this new conglomerate, but also to work more closely with those in industry who are seeking more collaboration in academia. What a wonderful way to feed our strong programs with fantastic people who could bring a new perspective.
Q: How do you envision making these types of big ideas a reality?
A: I set my eyes on excellence and relentlessly go out with the vision to generate the resources to execute that vision. When I served as provost at Stony Brook, I had the vision of raising money for a new Institute for Advanced Computational Science, which we successfully accomplished in a relatively short period of time. Development has always been one area of critical importance to academia. It is the margin of excellence.
WEB EXTRA
Q: What is your favorite movie?
A: My favorite movies are Eleni's favorite movies because she wins on movie night. [laughs] But maybe my all-time favorite is Lawrence of Arabia. Seeing the clashes of cultures, how Lawrence is coming from the previous world, how he's making friends with the Arabs and how they try to fight the common enemy at the time, and how all of that really fosters some new appreciation for the local people. That is phenomenal.
Q: Name some of your favorite books.
A: I like nonfiction usually. For example, Clayton Christensen's book on Disruptive Innovation. Very, very important. I lose a lot of sleep thinking that, 'Hey, if we don't do anything and sit on our laurels, higher education could be disrupted one day. All the President's Men, another great book and movie.
Q: Name some of your favorite places or cities.
A: Athens is not allowed, right? Paris, Rome, Austria, Switzerland—those are places that my wife loves and I always let her select.
Q: If you could have grown up in any era in history, which would be most fascinating to you?
A: Hmmmm. I would have loved to be in Constantinople during the rise, not the fall, of the Byzantine Empire.
Q: If you didn't become a university professor/researcher, and you set aside your love for marine engineering, what would you do if you had a totally different career?
A: You know, I would have picked again to be a university professor. I think it's absolutely fascinating. With a close second being somewhere in the shipping industry, doing something wonderful. But honestly, I've never looked back and I never wanted to be anything else.