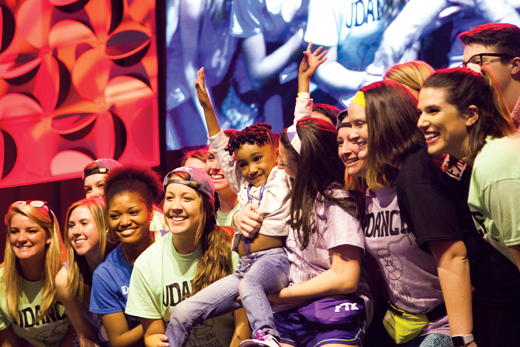 Photo by Ambre Alexander Payne
Through dance, hope lives
"This year, we'll help over 2,000 families from over 200 hospitals. None of it would be possible without the efforts of University of Delaware students."
OUR STUDENTS | Ten years ago, Jessica Forman Seavey had a little idea. It was just a flicker of a dream, a sense that she and her sorority sisters should try to make a difference for kids with cancer and become a small force for good in a world thirsty for every drop of goodness it could find.
Today, when Seavey, AS07, and her fellow Alpha Epsilon Phi alumnae look back on what they started, and see what has come to pass, they realize that one of life's well-worn maxims surely must be true: From small ideas and modest ambitions, truly great things can come.
Seavey's now-supersized dream is "UDance," a student-run organization that in 10 years has grown to include a 65-member executive board, a network of dozens of fundraising partnerships with fellow student groups and athletics teams, hundreds of volunteers, thousands of donors and an extensive array of corporate sponsors and alumni supporters.
While it's known around UD primarily for its fun-and-flashy 12-hour spring fundraising dance marathon and relentlessly peppy sidewalk solicitations for spare change, UDance's activities have steadily become a year-round presence—not only at the University, but across the city of Newark and in the homes and hospital rooms of so many.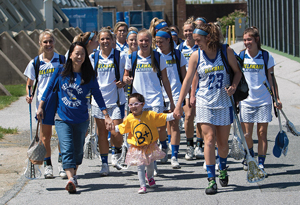 Photo courtesy of Andrew Weiss
"The efforts of UDance enable us to provide financial and emotional support to thousands of families around the country and also fund the latest cutting-edge research," says Joe McDonough, AS83, who started the Wilmington-based Andrew McDonough "B Positive" (B+) Foundation, the primary beneficiary of UDance's efforts.
"This year, we'll help over 2,000 families from over 200 hospitals," says McDonough, who started the foundation after his son Andrew died in 2007. "None of it would be possible without the efforts of University of Delaware students."
From its beginnings as a joint project between Alpha Epsilon Phi and the Sigma Phi Epsilon fraternity in 2006, UDance clearly has become the unrivaled leader of student-run philanthropy on a campus that's already rich with giving spirit. At times, UDance's multilayered, multistrategic structure resembles a sophisticated nonprofit corporation more than a student club.
And each year, a sense of boundless potential builds. Back in 2007, UDance pulled in about $8,000 for the year. By 2016, that number soared to $1.7 million—giving UDance a 10-year fundraising total of more than $5 million, and making it the fifth largest dance-a-thon in the nation, according to McDonough.
"Over each of the last two years, 6,000 kids came out for the marathon over the course of the day, and that's pretty incredible," says Jeff Sowden, BE16, UDance's co-executive director for 2016. "That's about a third of the campus."
"That first year, we danced in Trabant for 12 hours, and at that time there were a little under 300 dancers," adds Seavey. "I knew it could get this big. I knew once it caught on it had the ability to go this far.''
Talking to the core executive committee members who miraculously find time to manage the many moving parts of this multimillion-dollar endeavor, the sense of devotion to the cause is clear, and their dedication to sustaining its spirit seems assured. New members are carefully selected for passion and commitment, and the rich talent pool of UD's campus ensures UDance is continually led by a multiskilled, multidisciplinary team of students—students who incidentally end up gaining valuable career and life tools by tackling the complex and collaborative nature of the club.
For many of the UDance members, making such a difference inevitably means hours upon hours of work—even amid the already crushing pressure of classes. It means weekends devoted to planning UDance's 14 annual recruitment and promotional events—ranging from movie nights to fun runs to solicitation-letter stuffing parties—and school days interspersed with subcommittee meetings and project-update communications flashed back and forth via text-message between classes.
"We say for good measure that a UDance director puts in 10 hours a week," says Elizabeth Bell, AS17, UDance public relations director.
"That's a lie," Sowden adds with a smile.
"We end up putting in 20-25 hours a week," Bell acknowledges. "And during the month of the marathon, it's full time."
But they push on, semester after semester, undeterred by competing demands or impending tests. They know their mission has the power to change lives, to bring some spark of joy to the children they and their student-group allies visit during treatments and include in campus activities—the children UDance and B+ regard as the true "heroes" of it all.
For 12-year-old "B+ Hero" Christian Malmgren, the road to recovery from bone cancer has been eased not only by the financial support of the foundation, but by time spent with members of UD's Ice Hockey squad and his moment in the spotlight at the UDance marathon this year.
"It really has helped his confidence," says his mother, Yolanda. "He is so positive, and his self-esteem has increased."
A naturally shy kid, Christian surprised his family when he took the stage this spring, glow sticks in hand, dancing as the crowd cheered.
"I was so happy to see him having a good time, because when you're in treatment, you're not feeling well," Yolanda says. "With the help of these students, we know we have support and help. We know we're not alone."
Article by Eric Ruth, AS93