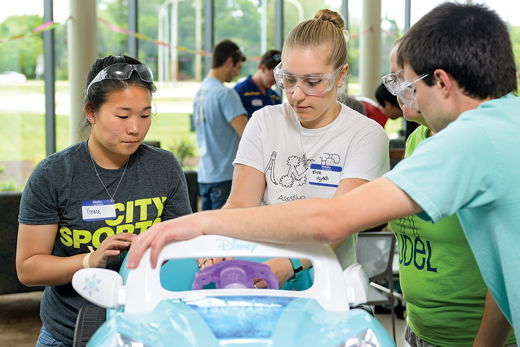 Photos by Evan Krape
Giving the gift of freedom
OUR STUDENTS | It's just past 5 o'clock on a Friday night. Students across campus are doubtlessly contemplating a night free of scholarly thought.
But not the handful tucked away in one busy corner of Spencer Lab. They are too busy making dreams real.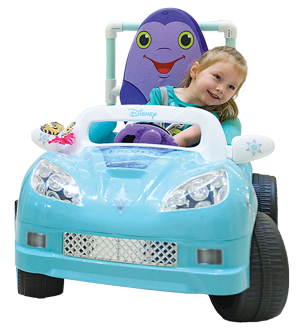 All across the brightly lit and tool-strewn room, the members of the Assistive Medical Technologies (AMT) Club saw and drill and screw, pausing only to plot electronic circuit diagrams on whiteboards or to puzzle over impromptu engineering dilemmas. At their feet lie the objects of their toil: plastic, off-the-shelf, battery-driven kiddie cars in states of disarray and dissemblance, each bearing obvious signs of modification—a supportive PVC pipe behind the seat here, a new type of electronic control there.
The students work well into the night to fulfill their mission: Help children with mobility and developmental issues play, zoom, ride and laugh just like the other kids.
"It's such an easy solution—modify the electronics, make it safe," says Gabby Kowalski, EG19, a member of the club that was born three years ago as a student-conceived offshoot of the Pediatric Mobility Lab, which also adapts kiddie-cars as part of its GoBabyGo! Program. "It makes the kids so happy."
In a typical semester, the club is capable of modifying about 10 cars, along with a few specialized walkers, bouncy seats and bicycles. Most are given to families within a 100-mile radius of UD, and for some, AMT's efforts are the only way to afford such devices.
AMT was envisioned by founder Vinayak Rajendran, EG16, as a way to get more of GoBabyGo's adaptive vehicles to needy parents and kids in the nearby community, and to give students from a variety of majors invaluable interdisciplinary, hands-on learning experiences.
For these students, the real reward comes when they see the faces of the children as they climb into the cars and get a sense of freedom they have never known.
Follow the Assistive Medical Technologies club on Facebook: www.facebook.com/UDAMT