Tai chi aids Parkinson's patients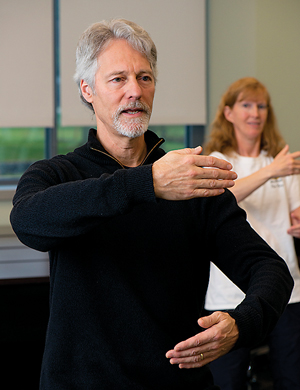 Photo by Lane McLaughlin
OUR FACULTY | Watching his mother-in-law struggle with Parkinson's disease inspired Russ Mason to help her and others.
As an accomplished practitioner of the tai chi, the retired UD professor was struck by the thought that this meditative, movement-focused martial art could be used to boost the balance, motor skills and even the mental outlook of patients. With support from UD's School of Nursing, Mason now teaches a class that imparts basic tai chi skills to patients at the Nurse Managed Primary Care Center's Parkinson Clinic on the STAR Campus. Since opening in 2014, the Parkinson's Clinic has provided individualized treatment and care for more than 100 patients.
Mason, who taught English as a second language at the University's English Language Institute, has studied under top teachers around the world, but the version he is bringing to the Parkinson's patients is a short, simple method called Tai Chi Fundamentals. Slowly, methodically, the students learn how to turn on a weighted hip, then take a balanced step—exactly the kinds of movements that Parkinson's patients struggle to master.
After just one semester, patients in the nine-person class reported immediate benefits. Their mobility improved, their confidence rose and they felt they had been shown a path toward a more relaxed, confident attitude, says Ingrid Pretzer-Aboff, the nursing professor who founded the clinic.
"I feel my balance getting better," says participant Tom McDowell. "I had been starting to take smaller steps. Since I started the tai chi class, I'm able to take a longer step again."
Parkinson's affects as many as a million Americans, about 2,000 of whom live in Delaware, which has no in-state movement disorder specialists.