Women in Business:
Advice from the top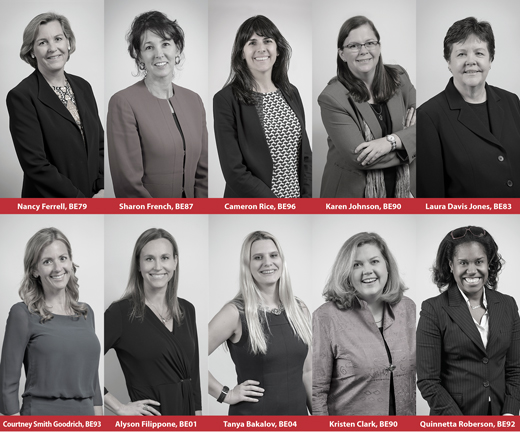 ALUMNI & FRIENDS | In self-help books and blogs, the formula for professional success seems almost simplistic and cliché: Add together skill and hard work, networking and a dash of luck, and voila! Success is assured.
The reality, of course, is a bit messier.
For perhaps no group is this more true than women, who face a near-Quixotic quest for work-life balance, where investment in one seems to come at the expense of another, and for whom implicit biases of gender often run counter to more traditional rules for career advancement.
For women in business, the numbers paint an especially striking and disparate picture: 5.2 percent of Fortune 500 CEOs are women (1), 8.1 percent of Fortune 500 top-earners are women (2) and 16.9 percent of board seats are held by women.(3)
Nationally, women account for 58 percent of the college student body, but only 36.3 percent of MBA recipients. In UD's Alfred Lerner College of Business and Economics, women comprise 40.3 percent of the student population.
To help build the infrastructure to support more female students in business, the Lerner College held two summits earlier this spring with prominent alumnae in business. By pooling their expertise, the University sought answers to some of the most vexing challenges women face in ascending to leadership roles.
And, as it turns out, their insights cut across gender, profession and all levels of professional advancement. Here are some of their tips for success in the workforce.
———— RULE #1 ————
Learn from everyone around you
Before climbing the proverbial ladder, you must first look around. You must know the jobs of your company and how they interact; what everyone else is doing and what their motivations are.
"You have to be the best for the job you want," says Kristen Clark, BE90. "And you become the best by understanding the organization at all levels."
Clark, who worked as president of Heinz Canada and now serves as an executive coach and marketing consultant, began her career as a sales representative for Proctor and Gamble. She learned early on the importance of talking to those on the frontline—the stock guys in the back room and the women at the cosmetics counter, the ones who knew both the products she was selling and the consumers who were buying them.
She applied the same communications approach throughout her career. For instance, years later, when working in licensing and new product acquisition at Heinz, she reached out to the legal team for their concerns and perspectives. "We were all working toward the same ultimate goal, with very different lenses, and I wanted to see the job through theirs."
Ultimately, Clark says, such networking serves as a way to market oneself, as most careers in senior leadership will require references and sponsors from across the company. "And if they don't know you and understand your skills, they can't advocate on your behalf."
———— RULE #2 ————
Be open to both growth and risk
There are some who enter a profession with a very deliberate career plan. But for most, says Sharon French, BE87, success comes through the "insatiable thirst for knowledge."
And, she adds, a willingness to take risks.
"Many of the things I took on early in my career [were things] I didn't initially know how to do," says French, now executive vice president of OppenheimerFunds, a leading global asset management company. "But I took the initiative to learn on my own and seek input from others."
Fellow alumnae agree.
When Courtney Smith Goodrich, BE93, entered the field of business technology 23 years ago, her primary role was to design and test systems. But as she reached out to the developers (see rule #1), she soon learned how to code.
"Do something because it interests you," she says. "That will lead to success."
Today, Goodrich serves as chief operating officer for global technology at JPMorgan Chase, overseeing a $9 billion budget and a staff of 44,000. "It's an incredibly humbling role," she says. And one, she adds, that grew from a diverse breadth of skills and expertise. "When I've been asked to take on new opportunities, my first instinct has been fear. But far greater than that has been a craving for never being bored, for always learning something new."
———— RULE #3 ————
Seek mentors; be found by sponsors
Perhaps the best definition of mentorship comes from Stephen Colbert's farewell to Jon Stewart during the Daily Show's final episode. "All of us who were lucky enough to work with you…are better at our jobs because we got to watch you do yours," the former correspondent told the host.
Mentors inspire by example. Sponsors advocate on your behalf. Both are critical to professional success.
"It's good to seek out mentors, people you can learn from," says Karen Johnson, BE90. "But sponsors tend to find you."
As executive director of compliance and ethics for the global biopharmaceutical company Bristol-Myers Squibb, Johnson touts the importance of letting your work speak for itself. "When you achieve results, lead with integrity and stand up for what you think is right, it will get noticed, ideally by people with influence." (And if it doesn't, see Rule #5).
Still, profiting from surrounding talent doesn't have to be limited to your place of employment.
Tanya Bakalov, BE04, makes a conscious effort to meet with women in leadership outside of her organization. People are open to conversations, she says, if only you ask and are respectful of their time.
"I seek them out on a weekly basis," adds Bakalov, founder, senior vice president and chief of staff for the digital monitoring company SevOne. "And I ask questions like, 'How did you become a member of this board?' or 'How are you managing this particular challenge [that I may be facing myself]'?"
Of course, mentors and sponsors can—and should—be diverse, in both gender and race.
"You want someone with a different perspective who can help you learn and grow," says Cameron Rice, BE96, managing director for Morgan Stanley. "A strong network of mentors and sponsors should be made up of people who look and think differently than you."
———— RULE #4 ————
Work the hours, but prioritize the time
In industries like banking, trading and private equity, the reality of long workdays is inevitable. Time, as the saying goes, is money. And making the latter requires a great deal of the former.
"But that's true of any business," says Alyson Filippone, BE01, partner at Ernst & Young. "If you want to make it to the top, you're going to work long hours."
What becomes critical, especially for women, is prioritization: choosing quality over quantity, gaining a solid understanding of values and compromises, knowing the costs associated with the decisions you make.
"I tell my husband, 'I want it all, and I want it now'," says Filippone, half joking. "But with a 2- and 4-year-old at home, it's about figuring out what works for us—and then making it work."
For Filippone, that means leaving work at 4 to be home for family dinner. For JPMorgan Chase's global technology COO Courtney Goodrich, it's cutting short a New York City conference to attend her 15-year-old's chorus concert. But it's also so much more.
As an example, Goodrich recalls her dark green rug, tan dog and white cat. Before her daughter was born, she would vacuum the carpet nightly. After her daughter's birth, that time spent cleaning became irrelevant.
"It's a silly story," she says, "but it taught me that things that are important in one stage of your life may not be in the next."
———— RULE #5 ————
Know your worth and ask for what you want
"Ultimately, the way you win is by driving where your strengths are," says Laura Davis Jones, BE83, an attorney who went through the associate ranks in her law firm very quickly and became partner shortly after.
Today's women are breaking the curves and standing ahead of the pack in a way that's more socially acceptable than ever, she says.
"Women don't have to differentiate themselves from men," adds Nancy Ferrell, BE79. "They have to differentiate themselves by accomplishments."
Now senior vice president and managing director of NorthMarq Capital, the leading privately held debt and equity provider for commercial real estate investors, Ferrell spent much of her career as "the only woman in the room."
Today she sees more opportunities for women to reach a management level—but they must know their worth.
"Women often wait for the opportunity to be offered," adds Jones. "But when you have the demonstrated skills and talent, there's nothing wrong with asking for what you want."
Quinetta Roberson, BE92, echoes that sentiment.
As the Fred J. Springer Chair in Business Leadership at Villanova University, she teaches a course in negotiations. And ultimately, she says, any good negotiator's goal is to hear one word: "Yes."
"If someone tells me no, I think, 'I didn't make it compelling for you. I didn't help you see how you were going to benefit,'" Roberson says. "When you know your value and worth—and you know exactly what it is that you want—then ask for it. The worst you'll hear is no."
Article by Artika Rangan Casini, AS05
1 Pew Research Center, 2015
2 Center for American Progress, 2014
3 Pew Research Center, 2013
Women in Business Summits
The Women in Business Summits brought together more than 30 women in leadership positions to assess and address opportunities to increase gender diversity in academic majors and, ultimately, in the work force.
"We have clearly graduated many successful women, but we're not where we need to be as business schools, and we're not there as businesses," said Bruce Weber, dean of the Lerner College of Business and Economics. "But," he added, "I believe we in Lerner have the opportunity to be a harbinger of change, to tee up critical topics and move the needle on women in business in leadership roles."
The first summit, held April 21 on UD's campus, was soon followed by a similar event in midtown Manhattan on May 4. Organized by the Lerner College and the Office of Development and Alumni Relations, they are part of a larger effort to inspire high potential women to build their confidence, capabilities and networks to successfully move into senior leadership.
Next steps include strengthening the alumnae mentoring network for current students and developing a Women's Leadership Certificate Program, aimed at preparing motivated and talented women to break into the C-suite levels within their organizations. Future summits will help plan these initiatives.