Pros give back to aspiring Hens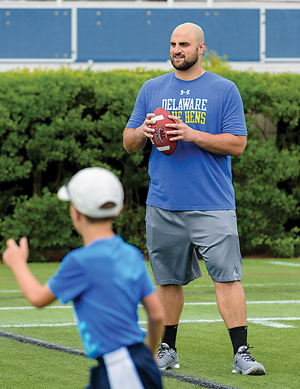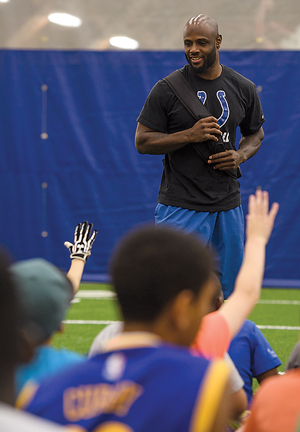 Photos by Kathy F. Atkinson and Evan Krape
ALUMNI & FRIENDS | To a kid, pro football players on TV stand taller than life, bigger than giants, more super than Superman himself.
Few dare to dream of getting to meet one. So imagine the sheer elation of meeting five face-to-face in one place.
For the 150 or so players at UD's Youth Football Camp this year, it was truly a star-filled summer as five alumni now playing in the National Football League returned to campus to coach, inspire and motivate the next generation of Blue Hen standouts.
The lineup of visiting pros included defensive back Marcus Burley, BE12 (Seattle Seahawks), offensive lineman Erle Ladson, AS03 (Cleveland Browns); tight end Nick Boyle, AS15 (Baltimore Ravens); offensive lineman Gino Gradkowski, AS11 (Carolina Panthers); and safety Mike Adams, EHD04 (Indianapolis Colts).
Each year, Blue Hen pros head to Newark to give the young players pointers on life skills and football skills at the camp, which aims to teach fundamental football skills to students ages 6-12.
"I always love coming back to Delaware," Adams says. "I'll do anything for the kids, and I always enjoy seeing former teammates that I played with here."