My UD: REAL AUDIENCE IMPACT
Ralph Begleiter
Rosenberg Professor Emeritus of Communication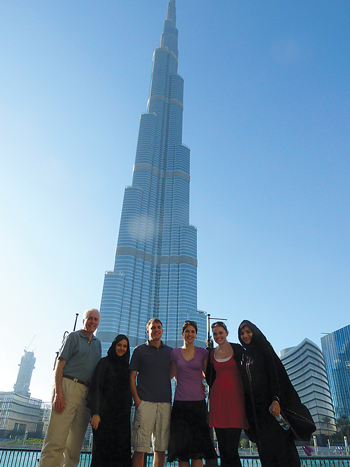 ALUMNI & FRIENDS | For years, it was all about scale.
For almost three decades, as a broadcast journalist, I measured my professional impact in large impersonal numbers. How many listeners to an all-news radio station in the nation's capital? How many viewers of an all-news television channel around the world? How many countries visited? How many capitals? How many interviews? How many world leaders? How many replays of my reports on all-news CNN, the self-styled "world's most important network?"
So it felt like a considerable recalibration when I arrived at UD in 1999 to teach journalism and political science. Suddenly, my "audience" was a couple of dozen students in a classroom, on a close-knit campus with a reputation for modesty, in a small state.
Would it be as satisfying, professionally? Could I make a difference? Would whatever I was doing with students matter, for them . . . or for me? Almost two decades later, the answers are yes, yes and YES! Instead of gauging impact by large impersonal numbers, I learned to evaluate on the basis of individuals, who all had names, faces and distinct personalities, unlike my faceless previous global TV audience. Students who would remember, and reconnect, years later.
In 2002, when I had a chance to participate in a conference of Cubans, Americans and Russians who all played geopolitical roles during the 1962 Cuban Missile Crisis, I asked UD's administration if I could take some students to Havana with me. I had no idea how it would be funded, but the answer was "yes." I identified two UD undergrads studying Russian. In a once-in-a-lifetime experience, they flew to Havana with me, met Fidel Castro, and served as interpreters for a Russian delegation of former Soviet Union adversaries who had been players in the world's closest brush with nuclear war. Impact? Clearly!
A few months later, as part of UD's renowned study abroad program, I found myself co-leading 18 undergrads on a photojournalism and geopolitics adventure to Antarctica. Our students schlepped crates of equipment to attempt a live CNN satellite broadcast amid the icebergs. Our Antarctica program, repeated for a larger group of students in 2005, allowed UD to boast for the first time of study abroad programs on all seven continents. Impact? Surely for UD and its students. For me: my seventh continent, too!
These educational experiences may have been small in size, but not in impact. Several years later, I pioneered a weekly videoconference classroom project introducing UD Honors undergrads to peers in Arab countries. Their honest, at times jaw-dropping discussions of political, cultural and social topics was so powerful I threw fresh effort into arranging and funding in-person exchange visits between our students and Middle Eastern Arabs toward the end of several subsequent spring semesters. Those unprecedented experiences challenged stereotypes about Arabs and Muslims formed in the aftermath of the terror attacks of Sept. 11.
Those attacks were among the first moments of revelation that my work in UD classrooms could make a difference. Just two years after beginning my academic career, the 9/11 attacks provided many opportunities to help incredulous undergrads comprehend the sharp contrast between what Americans think of themselves and how others in the world perceive us. Students from several other courses joined my 11a.m. class on 9/11 for that first discussion, and many years later I received a touching note from a former student, Karen Brooks, AS02. "Obviously, that day was just awful, but you were a welcome anchor and provided such a sense of calm and control," she wrote. "I really appreciated it (and still do)."
In the years to follow, my students in "Global Media and International Politics" explored issues both global and local. My undergrad classes in "Broadcast News Documentary" created three award-winning TV news documentaries, including one about the closing of a historic small-town auto assembly plant at the start of a recession. As they did it, they taught me something new. "Making television" was naturally a part of my professional skill set, but I had always measured impact by audience. Through my students, I understood the impact television can have on the students who create it, who learn how to "broadcast," write, produce, direct and present television-under-pressure.
Perhaps one of my most satisfying experiences included the creation of the long-running "Global Agenda" speaker series and course, introducing undergraduates and the broader University community to prominent, timely and influential players in global politics, such as then-World Bank President Robert Zoellick; head of the National Security Agency, Gen. Michael Hayden; New York Times columnist Nicholas Kristoff; and Rajendra Pachauri, a Nobel Prize-winning chair of the Intergovernmental Panel on Climate Change. What was once a nearly moribund Winter Session "lecture" series blossomed into an annual spring semester course with waiting lists of students and audiences of hundreds—arguably the University's most well-attended non-sports program year after year.
Videos of those events quickly became the most widely watched UD online programs. When the opportunity arose to build a new Center for Political Communication (CPC) at UD, "the epicenter of politics" according to Bloomberg News, it was a no-brainer to clone "Global Agenda" into a new "National Agenda" series in the fall, several of which were carried on national television. Creation of the CPC also set the stage for Delaware's first formal election-year political debates, including the inaugural 2010 edition, carried nationally by CNN and C-SPAN.
Over the years, I learned that academia offers unusual opportunities for experimentation, for innovation and for entrepreneurial accomplishment, and that UD's leadership is eager to encourage all those things that strengthen and enrich the student experience… regardless of scale.