Mascot of the Year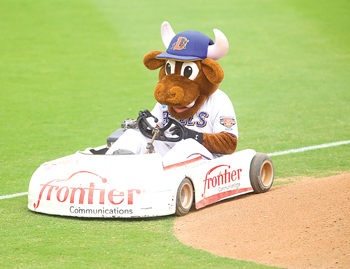 ALUMNI & FRIENDS | First, let's dispel some preconceived notions you might have about Nicholas Tennant, BE07, and his work as Wool E. Bull, the Class AAA Durham Bulls' resident on-field jester that was recently named minor league baseball's Mascot of the Year by Baseball America.
No, he did not apply for the job because of the classic 1988 Kevin Costner flick (though he saw Bull Durham after landing the job and soon realized how important it was to the team and the North Carolina town).
No, the mascot is not the basic ragtag bull you see in the movie (though Tennant dons a cute, fuzzy outfit adorned with a Bulls hat and jersey). And no, this job ain't easy. Tennant spends eight half-innings riding a Go Kart, running around to spots on the field and working the crowd—his favorite part of the job, because he gets to improvise.
Wool E. is so well known that he has become an ambassador for both the Bulls and Durham, working 5Ks and other events in the community. Tennant got his start working as YoUDee, the University's beloved mascot. He then went on to behind-the-scenes jobs with the Aberdeen Iron Birds and the Miami Heat before landing the Bulls job with the recommendation of another former Blue Hen, Dave Raymond, HS79, the original and longtime Phillie Phanatic and member of the selection committee.
"I've learned a lot from my mentors—the UD mascot alumni who came before me," he says. "My time at Delaware introduced me to people that I would have not met otherwise. Being able to learn from some of the best in the mascot industry has helped me become one of the best in MiLB."
Tennant's goal is to make it to the majors, kind of like a mascot version of Nuke LaLoosh, the wild rookie pitcher in Bull Durham who eventually leaves for the big leagues, but he's also content with being like the movie's veteran catcher Crash Davis, and making a career out of being a minor league legend.
"I'm probably a mix of the two of them," he says.
Article by Peter Bothum, AS97