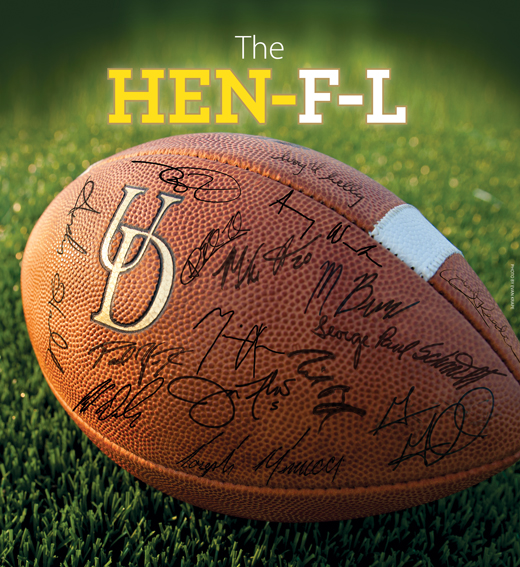 ALUMNI & FRIENDS | Gino Gradkowski, AS11, minces no words.
Delaware Football, he says, is packed with players whom bigger schools may have overlooked, "guys with a chip on their shoulder who are out to prove people wrong."
Blue Hens in the NFL
(Regular season active roster)
Active Players in Bold
Mike Adams, EHD04, (DB) - San Francisco, 2004-06; Cleveland, 2007-11; Denver, 2012-13; Indianapolis, 2014-Present
Josh Baker, AS10, (TE) - New York Jets, 2011-12
Nick Boyle (TE) - Baltimore, 2015-Present
Scott Brunner, BE80, (QB) - New York Giants, 1980-83; Denver, 1984; Green Bay, 1984; St. Louis Cardinals, 1985
Marcus Burley, BE12, (CB) - Jacksonville, 2013; Indianapolis, 2014; Seattle, 2014-Present
Mike Cecere, HS01, (DE) - New York Jets, 2001
Mondoe Davis, AS03, EHD05M (LB) - New York Jets, 2005
Pat Devlin, BE10, (QB) - Miami, 2011-13; Minnesota, 2014; Cleveland, 2015
Leon Dombrowski, EG62, (LB) - New York Titans, 1960
Jamin Elliott, BE02, (WR) - Chicago, 2001-02; 2004; New England, 2003; Washington, 2005; Atlanta, 2006-07
Joe Flacco, BE08, (QB) - Baltimore, 2008-Present
Rich Gannon, AS87, (QB) - Minnesota, 1987-92; Washington, 1993; Kansas City, 1995-98; Oakland, 1999-2004
Gino Gradkowski, AS11, (OL) - Baltimore, 2012-14; Denver, 2015; Atlanta, 2015; Carolina, Present
Andy Hall, AS04, (QB) - Philadelphia, 2004-05
Matt Hardison (DT) - New York Jets, 2012
Conway Hayman, AS71, (G) - Washington, 1971; New England, 1972; Houston, 1975-80
Tim Jacobs (CB) - Cleveland, 1993-95; Miami, 1996-97
Dennis Johnson, BE77, (DT) - Washington, 1974-77; Buffalo, 1978
Shawn Johnson (DE) - Oakland, 2004; Tennessee, 2005
Zach Kerr (DT) - Indianapolis, 2014-Present
Jeff Komlo, HS80, (QB) - Detroit, 1979-81; Atlanta, 1982; Tampa Bay, 1983; Seattle, 1984-85
Erle Ladson, AS13, (OT) - Cleveland, 2015-Present
Joe McGrail, AS87, (DL) - Buffalo, 1987
Joe McHale, AS86, (LB) - New England, 1987
Joe Minucci, HS04, (DL) - New York Jets, 2003; Baltimore, 2006
Jeff Modesitt, HS87, (TE) - Tampa Bay, 1987
Ben Patrick (TE) - Arizona, 2007-10; New York Giants, 2011
Bob Patton (C) - Buffalo, 1976
Dan Reeder, AS86, (FB) - Los Angeles Raiders, 1985; Pittsburgh, 1986-87
George Schmitt, ANR84, (DB) - St. Louis Cardinals, 1983
Ivory Sully, HS79, (DB) - L.A. Rams, 1979-84; Tampa Bay, 1985-86; Detroit, 1987
Ronald Talley, AS08, (DE) - Green Bay, 2009-10; Arizona, 2010-13
Harold Thompson, EHD50, (DE) - Brooklyn Dodgers, 1947-48 (All-American Football Conference)
Anthony Walters, AS11, (DB) - Chicago, 2011-14
Paul Worrilow, AS13, (LB) - Atlanta, 2013-Present
And that, adds the Carolina Panthers offensive lineman, is what makes them so successful.
It's that UD grittiness, that dogged sense of determination to overcome any underestimation, that drives our players to work harder, to do the little things that make a big difference and continue the Blue Hen tradition of sending graduates to the NFL.
Within Delaware's NCAA Division I Football Championship Subdivision (FCS) classification, the Blue Hens had the second highest number of alumni in the NFL during the 2015 season. This roster includes 2012 Super Bowl champion and Most Valuable Player Joe Flacco, BE08, quarterback of the Baltimore Ravens. It's a remarkable accomplishment, and one that many players attribute to the fightin' spirit of the Blue and Gold.
When Indianapolis Colts defensive lineman Zach Kerr reflects on his Blue Hen career, he thinks immediately of the 2013 game against Towson, when the team was down 14 points in the final minute but made a comeback to win 32-31. There were cheers and tears, he recalls. "They doubted us, but we fought hard and did it."
That's UD.
"It's not that we're better than anyone," says Kerr. "It's that we know we can be the best."
Confidence like that helps foster the deep and lasting resilience that's crucial for sustained success as a pro.
"It's hard to make it to the NFL," says Seattle Seahawks cornerback Marcus Burley, BE12. "But it's harder to stay."
Calling pro football one of the most competitive jobs in the world, he credits the coaching and support at UD for instilling in him "the right mentality" for success.
"There is a legacy of greatness here," says UD football coach David Brock. "It's an inspiring tradition of excellence that means a great deal to the players."
It's something offensive lineman Erle Ladson, AS13, can speak to firsthand.
Released from the Oakland Raiders after the 2014 season, he felt an initial crisis of confidence. But Ladson credits the 2014 Homecoming game—and the literal homecoming welcome he received from coaches, friends and former teammates—as a fundamental part of his journey.
"I wasn't playing [professionally], but I still felt the love and support from the UD community," he remembers. "People saying, 'If you need a place to work out, come back.' 'If there's anything I can do to help, tell me.' Coaches passing my name around, letting me know I had a support system that wasn't going anywhere."
Today, Ladson is on the active roster for the Cleveland Browns.
"I'm always here to prove I belong," he says. "Delaware football changed my life, and I always feel I have to represent Delaware and all they gave me."
Article by Artika Rangan Casini, AS05
More stories about UD Alumni in the NFL
Pros give back to aspiring Hens