Off-field, he gives his all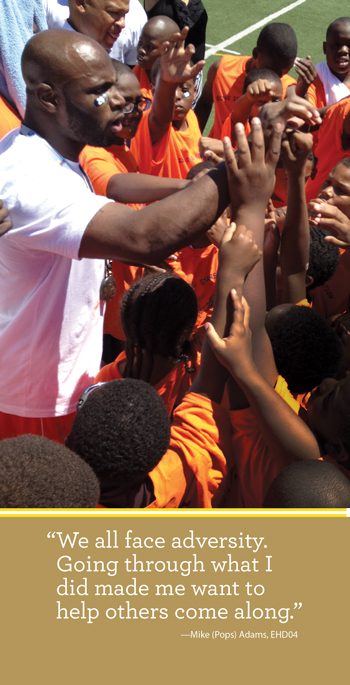 ALUMNI & FRIENDS | UD alumnus Mike (Pops) Adams, EHD04, a safety in the National Football League (NFL) for 12 years, currently with the Indianapolis Colts, is known for snagging opposing quarterbacks' passes and for mentoring younger players. But he's most proud of his accomplishments off the field.
Thanks to Adams' work in the community and through his charity—the Team Adams Foundation—kids in Paterson, New Jersey, have started school with sharp-looking haircuts and backpacks full of school supplies; families have enjoyed complete Thanksgiving dinners, delivered to their homes by NFL players; and young athletes have gained tips from the pros on how to make plays on the field—and how to become better people off it.
Adams returned to the UD campus this spring to speak with students and share his experiences of growing up on the inner-city streets of Paterson, and how they drove him to become the man, athlete and philanthropist he is today.
"I lived in a drug-infested neighborhood in an apartment with my six brothers and sister, my mom, my aunt… there were 13 people living there at one time," he recalls.
As a teenager, he played football, but he didn't take the game seriously. That was, until his picture appeared in the local newspaper. "It made my mom so proud, she went out and bought every paper she could find."
He wanted his mom to be happy, so he renewed his commitment to the sport. This led to an unexpected outcome—a football scholarship to UD.
A life-changing opportunity
Transitioning from Paterson to Newark, Delaware, was a deep culture shock for Adams. And while trying to adapt to this radically different environment, he was hit by a horrifying series of personal tragedies—two uncles died, his sister's house was destroyed by fire and, worst of all, his mother was diagnosed with cancer. She passed away two days before his graduation.
"I didn't think I could walk across that stage," Adams says. "But when I did, I felt her shining down on me."
When asked by a student why he didn't succumb to these overwhelming challenges, Adams answered, "Too much want. I thought about dropping out and going back home. But there was nothing there for me. What would that accomplish?"
UD faculty, advisers, coaches and teammates helped him through it all, providing advice, encouragement, education and guidance.
"Dr. [Gail] Rys treated me like family," says Adams, pointing to his former adviser and former assistant dean for students in the College of Education and Human Development. "Prof. [Bahira] Trask taught me valuable lessons about diversity and perspective."
And then there was Blue Hen football—the teammates, coaches, friends and fans. He can still hear the echoing cheers inside Delaware Stadium, still feel the elation after the team's victories or the solace they found after defeats. It's a lasting source of comfort and pride.
This fall, Adams will begin his third year with the Indianapolis Colts and 12th season in an NFL career that earned him appearances in two Pro Bowls and Super Bowl XLVIII.
Helping, inspiring, making a difference
Football may be Adams' dream, but his life's goal is to help people. It's why he majored in human services.
Tim Morrissey, director of UD's Student Services for Athletes, says, "During his time here at UD, Pops was always helping his teammates and others in Athletics. He and the defensive backs, including Dominic Banks, HS00, Leon Clarke, EHD03, and Ricardo Walker, EHD03, took great pride in UD and in helping others succeed both in the classroom and on the field."
"He was always looking out for other people," adds Kristine Coll, Adams' academic adviser, now assistant dean for the College of Education and Human Development. "Students would show up in my office all the time saying, 'Pops sent me.'"
Adams has stayed true to his commitment, dedicating both money and time to worthy causes. He established the Team Adams Foundation to improve the lives of inner city youth. He owns a construction company that focuses on building affordable housing. He visited service members in Japan as part of the NFL/USO initiative, and now, he's looking into building a community center and opening a charter school in New Jersey.
"We all face adversity," he says. "Going through what I did made me want to help others come along."
Article by Alison Burris