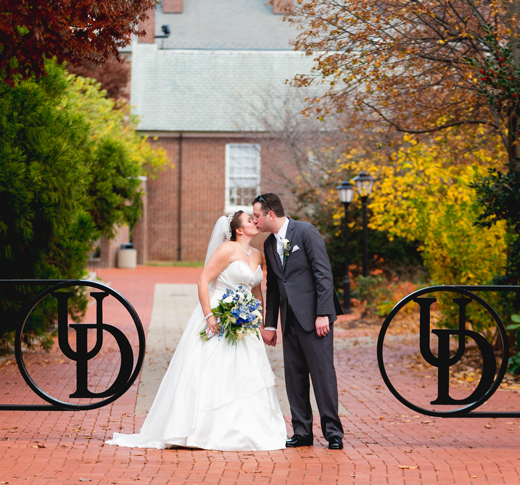 Image by thetomharmon.com
A true UD love story
ALUMNI & FRIENDS | The bride wore white. But the rest of this wedding was pure blue and gold.
In fact, the romance between Karen Wiener Ferrucci, ANR09, and David Ferrucci, ANR09, has embraced a remarkably enduring Blue Hen spirit from its beginnings back in 2007, when the pair first noticed their paths overlapping at campus events. Despite having been in the same college at the same time, they remained essentially strangers until meeting on the chaotic dance floor of a "Double Del" wedding of two fellow alumni.
"I noticed he was wearing a goofy University of Delaware bow tie," says Karen. "I was like. 'Who brought the guy in the bow tie?' And that was David. I barely knew who he was at the time, but I knew he must be a lot of fun, because the song was 'Shout' from Animal House, and he and all of his Alpha Gamma Rho fraternity brothers were on the floor, kicking their legs in the air.''
By the next day, they were texting, and soon found themselves hanging together with friends. The hang-outs soon turned to dinner dates at local UD eateries, Timothy's and Iron Hill Brewery, and one day in 2014, the dating led to David's by-now-inevitable big leap—a proposal in front of Memorial Hall.
"And that's when I started crying. It was the excitement, the realization that this was our next chapter, thinking back to how great our story was," Karen says. "UD was always important to me, so it was amazing how it all happened.''
By now, the theme of their November 2015 wedding would be a foregone conclusion: Bridesmaids in blue gowns with yellow sunflowers. Blue-and-gold on the piping of the cake, in the centerpieces, even the lighting.
And the setting for their wedding photos? Where else: The Green at UD. And as for kicking off their marriage with a far-flung honeymoon on the day after the wedding, they were having none of that.
They awoke the next morning, bleary but happy, and immediately headed off to the UD Homecoming game for a tailgate celebration.
"I think the UD spirit is something that we'll both just always take with us," David says. "The University of Delaware has given me so much. But the most important thing it has given me is her."