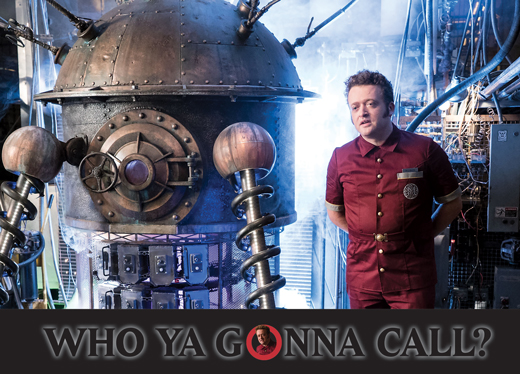 Photo courtesy of Sony Pictures
ALUMNI & FRIENDS | It's a long road from Newark, Delaware, to Hollywood, and the destination is apparently haunted, hilarious and filled with green slime.
Or at least that's how it has been for Neil Casey, AS03, who starred in the summer's Ghostbusters reboot as Rowan, the villain fighting real-life comedic superheroes Leslie Jones, Melissa McCarthy, Kate McKinnon and Kristen Wiig.
He stands formidable ground on screen, not just as an evil nemesis, but as a brilliant improv comedian making his big Hollywood debut.
Named one of the 50 comedians to watch in 2015 by Vulture.com, the UD graduate is perhaps best known for his talents behind the scenes, having written for SNL, Inside Amy Schumer and "a bunch of other shows that were great to work on though maybe people haven't heard of as much."
Casey sees an overlap between good improvisers and good writers because "in each instance, you're looking for what's funny instead of forcing it."
The comedic Blue Hen got his start at UD with the Rubber Chickens improv comedy troupe and spent many an undergraduate night at the Bacchus Theatre in the Perkins Student Center. As treasurer, and later, president of the student group, his job was simple: turn on the lights, hire security, charge 99-cents per show and perform for the crowds of 300-plus students who would soon fill the seats.
Calling it "a really special time with really talented, cool people," Casey credits his experiences with the Rubber Chickens as the impetus for his early career.
"There are plenty of schools without a facility or an audience, and we were lucky to have both," he says. "The campus culture got us used to performing, and being able to put on a show led me to what I spent the beginning of my adult life doing."
In addition to their time on stage, Casey and his fellow funny friends would jam into their cars and head up the Jersey Turnpike to see professional improv theater at its best, watching shows and eventually taking classes at the famed UCB Theatre in Manhattan, where Casey would continue to study upon graduation. It was there that he began to make a name for himself in the comedy circuit.
"You can't teach someone how to be funny," he says. "But you can teach someone how to be a good improviser, how to build something collaboratively with your scene partner."
That comedic collaboration is on full display in this summer's blockbuster, which grossed $46 million opening weekend and was hailed by Time for its "affable, inventive riff…that exists only to make us laugh."
And don't be fooled by Casey's evil presence. The alumnus is far less diabolical than his on-screen character.
"The most villainous thing I've ever done is probably keeping telemarketers on the line for large stretches of the afternoon," he says, laughing and going into a quick improv bit: "Yeah, actually, you know what, I think I would rather be removed from your list."