Made in Americas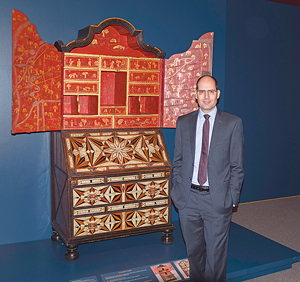 ALUMNI & FRIENDS | The term "globalism" may be a buzzword, but that doesn't mean it's a new concept. Just ask alumnus Dennis Carr, AS99M, whose exhibit, Made in the Americas: The New World Discovers Asia, is on view at the Winterthur Museum, Garden & Library in Wilmington, Delaware. Carr is a graduate of the Winterthur Program in American Material Culture and Carolyn and Peter Lynch Curator of American Decorative Arts and Sculpture at the Museum of Fine Arts in Boston.
As the first large-scale exhibition to examine the influence of Asia on the arts of the Colonial Americas, it features more than 80 pieces, including furniture and paintings dating from the 17th to the early 19th centuries, telling the complex story of how craftsmen throughout the Western Hemisphere adapted Asian styles in a range of objects.
Made in the Americas focuses on history that's not taught in school, says Carr, who's curating the exhibit. "The history of the Colonial Americas has long been written as a series of encounters between Europe and the New World," he adds. "However, the extraordinary objects in this exhibition encourage us to think more broadly about the Americas as being at the center of this global, cultural and commercial exchange." UD art history professors Wendy Bellion and Mónica Domínguez Torres are using the exhibit as a teaching tool for their interdisciplinary graduate seminar this fall.
"There's been a big movement toward a more integrated, more global model of teaching and displaying the arts of the Americas over the past 10 years," says Bellion.
The exhibit, which earned rave reviews when it appeared last year at the Museum of Fine Arts in Boston, will run through Jan. 8, 2017.
For more information, visit www.winterthur.org/madeintheamericas.
Article by Mara Gorman