From our Alumni Association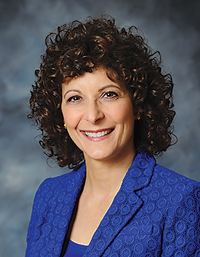 In the lyrics of our alma mater, "We give thee thanks for glorious days…"
…when campus is ablaze in the bright oranges, crisp yellows and deep reds of fall, and students are back to class, crisscrossing The Green while the carillon chimes the hour.
That's what I remember each fall at the beginning of the academic year. I'm a college professor so technically my new year starts in September, just after Labor Day. I still draw energy from a college campus, just as I did when I was a student.
For me, fall also means the Twilight Induction Ceremony, Homecoming, Parents and Family Weekend and College Fairs. Taking part in these activities makes me feel connected to the UD community.
As I hope it does for you, too. The UD Alumni Association (UDAA) is all about engagement, not only in the fall but in all seasons.
Through the VAST program (Volunteer Admissions Support Team) you can share your college experiences and help recruit new Blue Hens by representing your alma mater at a college fair in your area.
Share your professional job experiences with fellow Blue Hens through the Career Services Center. Call your old Gilbert Hall roommate and plan to meet up at Homecoming next month. Plan to attend a UD Alumni Club event in your area (you can find out when and where Blue Hens are gathering around the country at www.UDconnection.com).
And if you can't make it to campus, stay engaged with UD through social media (@UDAlumni, @UDelaware).
Finally, please join me in welcoming our new president, Dr. Dennis Assanis, as he joins our Blue Hen community. As we did when we first arrived in Newark, he's finding his way around the campus, getting to know students and picking up the words to our fight song.
And as he embraces the energy and spirit of UD, he's learning what it means to be "Blue Hens Forever."
Anne Giacoma Barretta, AS83
President, UD Alumni Association
@Angiabar