Saving Christmas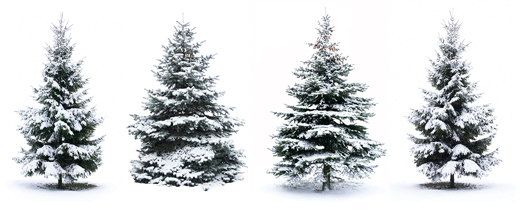 OUR STUDENTS | UD students have developed an app to help save Christmas. Well, the trees at least.
There is nothing more important to a Christmas tree customer than a tree full of foliage. Douglas fir trees, the primary species in the Delaware area, are susceptible to two diseases, Rhabdocline needlecast and Swiss needlecast, both of which cause premature needle loss, leading to thin foliage. While both diseases are easily controlled with the use of fungicide sprays, timing is crucial. That's where PocketFarmer comes in handy. Developed by an interdisciplinary team of undergraduates, PocketFarmer, a new mobile app, helps Christmas tree farmers in the region diagnose, identify and mark potentially diseased plants.
Photo by Lindsay Yeager
PocketFarmer helps growers know when—and how often—to spray. Equipped with a seasonal calendar detailing how the trees should be progressing and what diseases are common during given times of year, the app also includes a GPS feature for farmers to locate and pinpoint trees with distinguished or foreboding features.
The innovative app came about when Michelle Rodgers, associate dean for UD's Cooperative Extension, asked agents to come up with ideas that could benefit clients.
Through the University's Spin In program—which matches innovative external entrepreneurs with an interdisciplinary team of undergraduate "consultants"—six students from across the University joined forces to solve a problem for Delaware agriculture and beyond.
PocketFarmer was created by computer engineering student Akuma Akuma-Ukpo, EG16; communication major Michelle Lifavi, AS17; finance student Andrew Seski, BE17; plant science major Nathan Smith, ANR15; marketing student (and graphic designer for the app) Jack Sherry, BE16; and visual communications and political science double major Rebecca LaPlaca, AS16. Their digital product provides farmers with the ability to take a picture of their diseased trees and compare it against images of known pathogens, or to share photographs directly with Cooperative Extension agents like UD's Nancy Gregory.
Cooperative Extension connects the public with University knowledge, research and resources, and Gregory has conducted numerous workshops on how to evaluate disease resistant cultivars of Christmas trees.
The potential impact of the app is clear. Its features "could save time and money for growers, as they would know when that crucial first spray needs to go on," said Gregory. "Or if they have an insect instead of a pathogen, they would know that, too."
While the app is currently focused on just conifer trees in the area, the students look forward to expanding their reach beyond Christmas trees. In fact, they used the name PocketFarmer in the hopes that they could expand its features to other crops.
At the time of publication, the PocketFarmer app was still in beta testing, but the students expect it will be available for download in December. For a video about the app, visit www.udel.edu/002752