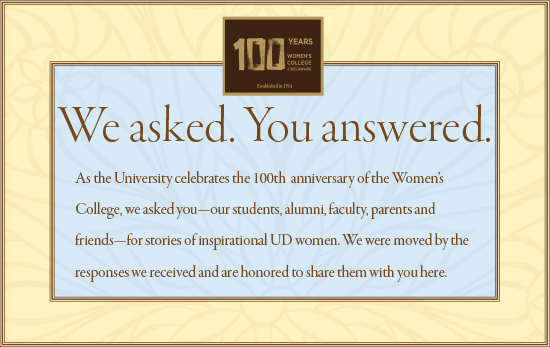 IRIS L. GONZALEZ, AS76PHD | This is only a bit over 50, but …
I started attending UD part-time in 1963, one of few "returning adult students", as I had 2 little kids. Coming from another country, I did not even have a high school diploma to show, but they took me at my word that I had ranked #1 in my school and admitted me. I wanted to major in Biology and found a supportive chairman and faculty. Those were different times: registration was in the field house where each department had several tables where you signed up for courses until they were full. Classes were small, most instructors were good, and I enjoyed school. I had a couple of interesting incidents: One evening I rode my bike to the library and was not allowed in because women had to wear skirts to the library and I was wearing slacks - that rule soon changed. The one time when I encountered overt discrimination was at a coffee for foreign students that was held by a high administrator (who shall remain unnamed): after a pep-talk about us having come to the "land of opportunity for all", I asked how could medical schools limit females to 3% of enrollment? The administrator replied "But that is for a good reason! because women only want to go to med school to catch a doctor husband" and he was serious about this statement!
The changes and progress at UD are enormous: the Morris Library, all the additional buildings around the "mall" (now the "Green"), first Loudis as the "new music building" and now the great Performing Arts building. And the walks throughout campus - love them.
RACHEL MEYER, AS01 | January of 1998, while studying theater in London as a study-abroad student, I stumbled across a tiny one-woman production of The Vagina Monologues. Eve Ensler performed alone amidst a few ramshackle stools and tables in the back of a dive bar. I remember thinking (as a fresh-faced 19-year-old): "WOW, would I love to see this performed at UD!"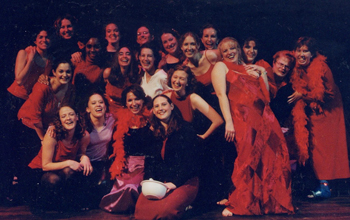 Two years later, in February 2000, when the once-scandalous play had taken the theater world by storm, we gathered a scrappy team of passionate and progressive undergrads to pull off our own production in Bacchus Theater. After just a month of preparation, it was a great success. Though some of my friends were still afraid to come that first year, by the next February we'd launched a full-fledged theatrical production in Mitchell Hall with more than 20 diverse women performing. I'll never forget the moment I grabbed the mic and looked up from center stage to see all 694 seats sold out. It was thrilling, and electric.
These days, everybody's heard of The Vagina Monologues. Back then, though, it felt like a bold and risqué move. I felt so proud of the UD community for embracing the play's outspoken body-positive message. And I'll never forget walking across campus and being stopped by strangers who asked, shyly: "Are you the Vagina woman?" Truly a highlight of my time at UD.
BARBARA ANN FRASER, HS76 | This is a quick story of an unbreakable relationship that started on the UD campus more than 40 years ago. You see, there were six women that found each other over a two year period from 1973 to 1975 in the School of Nursing and Physical Therapy. We all somehow developed a bond and called ourselves the Wild Women of Delaware (WWD). The special thing about our group is that we supported each other in class, doing homework, in clinical and at all the fabulous extra events UD offered. Quite often, we would get together during the summers and go to various beaches in Delaware and New Jersey, which only strengthened our commitment to one another.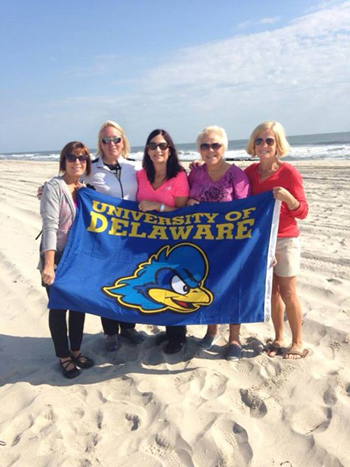 My name is Barbara Ann (Sendner) Fraser BSN'76. All of the other WWD's graduated in 1977 with degrees in nursing, physical therapy and communication. We all continue to have one weekend a year that almost all of us get together as UD alumnae and have more fun than ought to be allowed! We have met at Homecoming, Rehoboth Beach, Philadelphia, Long Beach Island, and this year we will celebrate out 60th birthdays on Martha's Vineyard in September. Places where we live include Detroit, Michigan, Philadelphia, Pennsylvania, Annapolis, Maryland, Pottstown, Pennsylvania, Berkley Heights, New Jersey and Meriden, Connecticut All of us have several children and they too have become part of our unique situation. As a matter of fact, my daughter graduated with a Bachelor of Music in 2011 and her Master of Music in 2013 from UD, and another one of our children will be graduating in 2016.
There are so many stories and memories that I could share, but really what needs to be said is that the University of Delaware gave the six of us the beginning of a most treasured lifelong extended family that will never end! Please know that when one of us calls, texts or emails each other it is usually addressed to the group. We share and support one another through thick and thin and that is what is so special about our love for one another.
CARLY BERGSTEIN, AS09 | My name is Carly Bergstein. I graduated from UD in 2009 and majored in Human Services. During my time at UD I had many people influence me in a positive way. Fiveyears after graduation I can say one person in particular really changed the course of my life: Jessica Forman Seavey, AS07.
Jessica served as president of our sorority (Alpha Epsilon Phi) in 2006. During her time in AEPhi, she had an idea to create a dance marathon. After two years of hard work, that idea became UDance. Eight years later, UDance is the seventh largest dance marathon in the country and it benefits The B+ Foundation. Jessica never gave up on that dream even when it got tough! Watching her inspired me to go after what I care about as well. Jessica took the time to give me, a younger member of her chapter, valuable advice and feedback in my own leadership. With Jessica's support and guidance I, too, became president of our sorority and a huge supporter of UDance. Jessica gave me and thousands of University of Delaware students something to care about. The lives of children with cancer are better because of Jessica, the lives of students are better because of Jessicaand my life is better because of Jessica. There is no better example of a Blue Hen than my friend and role model, Jessica Forman Seavey.
NICOLETTE CAFIERO, BE15 | I was voted UD Homecoming Queen this past October 2014. I was at the football game with the end of the second quarter near, and I wasn't sure if my roommates were going to make it or not. They were on Main Street, celebrating homecoming and were going to meet me at halftime at the stadium when the queen was announced. I didn't see them in the stands and had to put my phone away because it was time to go onto the field. I figured my roommates didn't make it in time.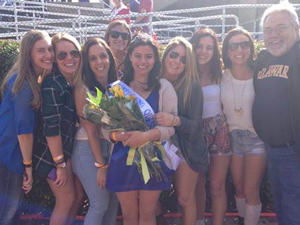 After they announced my name as the 2014 UD Homecoming Queen, I heard uncontrollable screaming coming from the right side of the stands. It was my seven roommates cheering. They ran onto the field and hugged me and we cried and celebrated! They had made it just in time to hear the winners' names.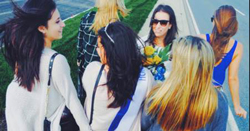 That is my most memorable day at UD to date, with women that I look up to and appreciate greatly. I wouldn't be here without them. We all met the first day of freshman year (2011) on Harrington D floor. We were floor mates, and then roommates and we have been for four years at UD.
Please celebrate a UD woman who inspired you by emailing your story to: TheMessenger@udel.edu and we'll share it on this website.