My Story, My UD
Two women tell their UD stories
Dot Munroe, AS46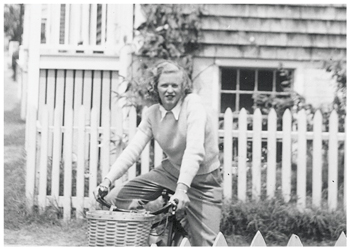 MY UD | This is the time of great promise for women forging career paths. I came of age in a very different era.
My twin sister, Katheryne, and I arrived at the University of Delaware in September 1944. Professor Alan Colburn had offered us fellowships to participate in initiating a program in high polymer chemistry.
As the only female graduate students, we were treated as faculty. We soon befriended two young male instructors, Richard McCormick, who would later propose to Katheryne, and his assigned officemate, John Munroe, AS36, 41M, who would become my husband.
The University was a different place back then. Campus activities were greatly curtailed—during wartime, there were few male undergraduates, and all students were on a fast track to graduate. The entire administration consisted of a registrar, a business manager and the president. The University was so intimate that when the telephone operator, situated atop Memorial Hall (then the library), noticed John walking from his office in Hullihen Hall to Brown Lab, she knew to transfer an incoming call for him to the chemical engineering department where I worked.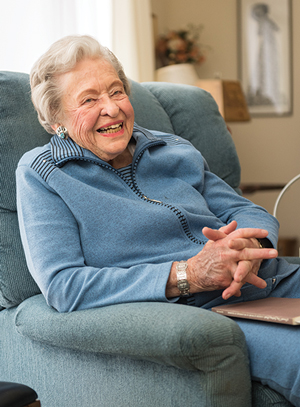 John and I became engaged in April 1945 and married that summer.
He was 8½ years older than me, and I thought we should start a family. It is so different today.
I didn't attend my graduation ceremony in June 1946. Just three months earlier, I had published my thesis, "Emulsion Copolymerization of Styrene and Isoprene." Now I was in the hospital, giving birth to the first of our three children.
The years that followed brought joy and no small share of accomplishments. In 1960, I was the first woman appointed—and later elected—to the Newark Special School District Board of Education. For years I taught math. I tutored war veterans in chemistry. I coached boys' tennis at Newark High School. In 1974, in a reprise of the Battle of the Sexes tennis match between Billie King and Bobby Riggs, I bet a year's salary against $25 that I could beat the new assistant principal. And I did.
I have loved growing old with my husband and have been most proud of our three children, who have provided me seven special grandchildren.
I've had a wonderful life, and all of it followed that decision in 1944 to accept a fellowship at the University of Delaware.
Dorothy Levis Munroe is an active member of the UD community who has passionately supported numerous programs, most notably the John A. and Dorothy L. Munroe Chair of History.
Rachel Pettinella, AS15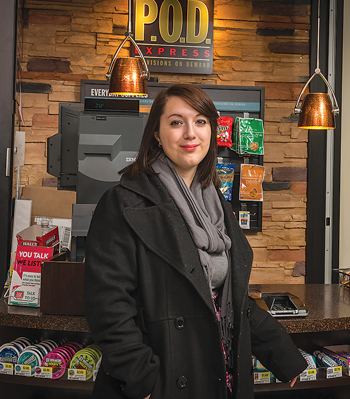 MY UD | It is hard to believe that something that feels so natural, so matter-of-fact to me—women attending college—was not always the norm. I wonder about those first women who attended UD. I marvel at what their experience must have been like. Was it like my own? My UD experience has been simultaneously untraditional, challenging and rewarding. Along the way, there have been many people and moments that have changed my life.
When I transferred to UD and was paired with my new roommate, I feared the worst. But I should not have; I adored Allie. She brought me out of my shell. Allie is the complete opposite of me—loud, vibrant and full of energy. Back then, I was quiet, hyper-focused and not excited about the college experience. Allie inspired me to put myself out there, to try new things and not allow people to walk all over me. She introduced me to all of her friends and took me to events on campus. We had late night trips to the POD for chocolate. She helped me through tough times and I did the same for her. We changed each other for the better as we sought to find our majors, and ourselves, at UD.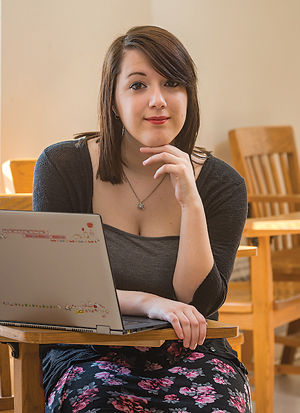 Oddly enough, breadth courses helped me to find my major and myself. These courses—required credits from classes in each college—make most students roll their eyes. But they proved to be profound for me, as I felt lost at college. I am an indecisive person—from the big decisions, like choosing a college, to small things, like choosing a flavor of coffee. I was never sure of myself or the path I wanted to take. The breadth requirements helped me dip my toes into all that UD had to offer, and I found my calling—English. I had many inspiring professors at UD, but Jim Burns made me realize that I wanted to make a career out of writing. I finally got on track and started getting involved.
I'm now in my final semester of my senior year, working on my professional writing and dreaming of a career as a public relations writer. I want to live in Los Angeles, near the ocean, and own a cat. I want to combine my love of art and writing. I want to see my name and designs in print and feel that sense of personal pride and professional accomplishment. I can do this, because of UD, and because of the women who came before me.