Men's soccer earns first CAA regular season title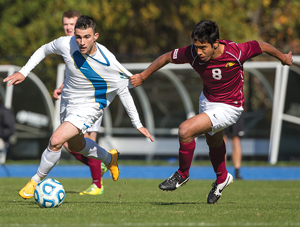 Photo by Mark Campbell
OUR UD | This past fall, the men's soccer team braved blustery conditions at Stuart and Suzanne Grant Stadium to defeat Elon 2-1 and earn its first ever Colonial Athletic Association regular season championship.
"Winning the CAA was one of our goals when we started last summer, and keeping that championship mentality was key for us," said University of Delaware Head Coach Ian Hennessy.
Hennessy attributes the team's success not only to his incredible players, but also to the support the team received from the Blue Hen community.
"Over 22,000 fans have come to watch our home games over the last two years. This growth in attendance has paralleled our success on the field," said Hennessy.
Before the championship game, the University of Delaware officially dedicated Stuart and Suzanne Grant Stadium. The Grants' historic gift of $1.5 million funded extensive renovations to the facility with the input of a press box and new bleachers. Delaware Gov. Jack Markell, President Patrick Harker, UD Athletic Director Eric Ziady, Stuart Grant and Hennessy all spoke at the pregame ceremony.
The regular season championship earned the team the No. 1 seed in the post-season CAA Tournament. They battled to the final round where their post-season ended in a loss to James Madison University on Nov. 16. But the players and coach still celebrate their successful season and look forward to going even further in 2015.
"Being so close to achieving all of our objectives this past year has not only increased our desire to achieve them, but also it made us recognize our mistakes so we can be able to solve them and become a better team," said Guillermo Delgado, HS17, a midfielder who earned All-American honors for the second straight year and was the team's leading goal-scorer.