Delaware field hockey: Back-to-back champions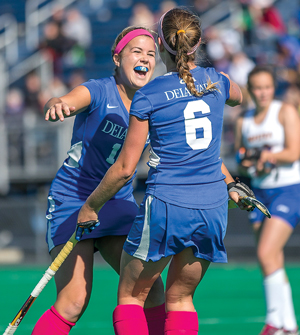 Photo by Mark Campbell
OUR UD | The UD field hockey team celebrated its second consecutive Colonial Athletic Association Championship last fall with a 2-1 victory over James Madison University, becoming the first conference team to win consecutive CAA trophies since Old Dominion University accomplished that feat from 2010-11. The title is UD's fourth since joining the league in 2002.
"It was a true conference championship game. Two great teams competed, and it could have gone either way," said Head Coach Rolf van de Kerkhof. "We played great defense in the second half, which was truly the difference maker. I'm excited for our team, as they've grown in every game along the way."
The second-seeded Hens had a strong showing against the fourth-seeded Dukes, including the 11th goal of the season for Esmée Peet, BE17, off a penalty corner; a game-winning goal by Michaela Patzner, AS16, in the second half; and three saves for goalkeeper Emmeline Oltmans, AS18, for her 10th win of the season.
Blue Hens junior midfielder Allie Mikelson, AS16, was named the Tournament's Most Outstanding Player.
The championship win earned UD the league's automatic bid to the NCAA Tournament, where they lost to Kent State University in the first round. But the Blue Hens are looking forward to a new season, with hopes for another championship. Peet is confident that 2015 will be a year to remember.
"The last two championships have created a great excitement and a positive energy for the team. Everyone came back from winter break ready to go with a lot of motivation, and I think as a team we are ready to take the next step and achieve bigger goals. This spring we will work a lot on our individual development and become even closer as a team. I can't wait for my third season at Delaware and to win another championship," said Peet.
The UD field hockey team will kick off the 2015 season this summer. A formal schedule will be shared this spring on www.bluehens.com.