Cautious optimism at 10th annual economic forecast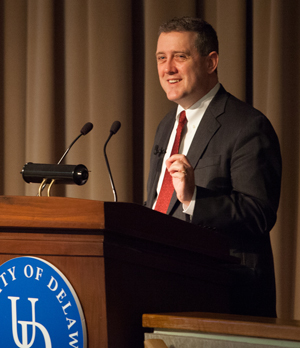 Photo by Ambre Alexander Payne
OUR UD | Economic experts from around the industry shared their perspectives at the University's 10th annual Economic Forecast conference in February.
Michael Farr, CNBC contributor, president of Farr, Miller and Washington, LLC and author of The Arrogance Cycle, warned of becoming too complacent during times of economic recovery.
"In literature, tragedies always begin on sunny days," Farr said, reading from The Arrogance Cycle. Feeling like "you can't lose," he continued, can lead to poor decision-making.
Farr warned that current economic issues like rising living costs, wage stagnation and inadequate retirement savings cannot be ignored.
Despite these realities, Farr sees reasons for optimism, including positive demographic trends, like an increasingly educated population.
"When you are buying stocks, you are buying a long-term call on the future of America," Farr said. "Don't bet against this country."
Discussing America as well as the international economy was Jay Bryson, managing director and global economist for Wells Fargo. Bryson provided an economic outlook for what he calls "an interconnected world."
Bryson predicted modest growth in both the Eurozone and in China as the former recovers from a recession and the latter strives to maintain unprecedented market growth.
The recent decline in gas prices also garnered part of the discussion, with Bryson noting that this decline will help push consumer spending higher in 2015, but may weaken incentives for alternative energy innovation.
The conference's final speaker—president and CEO of the Federal Reserve Bank of St. Louis—James A. Bullard, shared his fellow conference members' cautious optimism.
"I do think there's considerable momentum in the U.S. economy," Bullard said.
Bullard added that, while low interest rates help drive momentum, a zero interest rate is unwise because the economy has now "normalized."
"We can rationalize low interest rates," Bullard said. "We can't rationalize zero interest rates."
UD's Center for Economic Education and Entrepreneurship in the Alfred Lerner College of Business and Economics partners with Lyons Companies to present the annual conference, which features three presentations and a panel discussion.
Article by Sunny Rosen, AS14