The Engaged University
The Carnegie Community Engagement Classification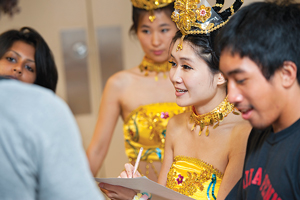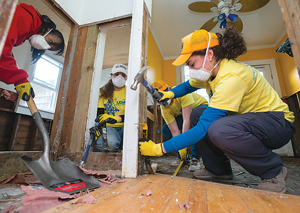 Photos by Evan Krape
OUR UD | From our nationally recognized Lori's Hands program, in which students provide in-home support to people with chronic illness (founded by Sarah LaFave, HS11, when she was a student), to the work of professor Yasser Payne, in which he trains residents of high-crime Wilmington neighborhoods in research methodologies so they may help determine underlying causes of violence in their communities, the University of Delaware is deeply committed to making the world a better place.
As a result, the University received the Community Engagement classification from the Carnegie Foundation for the Advancement of Teaching.
Founded by Andrew Carnegie in 1905 and chartered in 1906 by an Act of Congress, the Carnegie Foundation defines community engagement as "the collaboration between institutions of higher education and their larger communities (local, regional/state, national, global) for the mutually beneficial exchange of knowledge and resources in a context of partnership and reciprocity."
More than 300 unique community partners and over 375 examples of community projects were identified during the development of the University's application for the elective classification, which was submitted to the Carnegie Foundation in April 2014.
The University is one of 240 U.S. colleges and universities to receive the 2015 designation.
NAFSA's 2015 Senator Paul Simon Award for Comprehensive Internationalization
NAFSA: Association of International Educators has named the University of Delaware as one of five higher education institutions in the U.S. to receive the 2015 Simon Award for Comprehensive Internationalization.
"This year's Simon Award winners are outstanding models for how higher education across the country can and must innovate to prepare our graduates for success in today's increasingly complex and interdependent world," said Marlene M. Johnson, NAFSA executive director and CEO.
UD joins Mount Holyoke College, North Central College, the University of San Diego and the University of Virginia in its success at "making significant, well-planned, well-executed, and well-documented progress toward comprehensive internationalization—especially those using innovative and creative approaches."
UD was recognized for a comprehensive approach to international education guided by the 2008 Path to Prominence strategic plan, which called on the campus community to "foster knowledge and awareness of the economic, environmental, political, cultural and social issues that face the world, and the skills to address them."
The winning application cited Delaware's progress since that time, including the establishment of the Institute for Global Studies (IGS) in 2009, the reorganization of the Office for International Students and Scholars (OISS), and the re-opening of the Wright House, creating a campus hub for international activities.
Long known as a leader in study abroad, the University also shared details of new, innovative programs such as the English Language Institute's CAP Cohort Model, UD World Scholars Program, Delaware Diplomats, Globex Fund, UD Africa, Fulbright Initiative, and expanded opportunities for undergraduate global engagement, including micromesters, internships and service learning fostered by membership in the Clinton Global Initiative and the Taillores Network.
When UD embarked upon its Path to Prominence strategic plan in 2008, we set out to become "The Engaged University," an institution renowned for promoting public service and applying its research and human talent to address the grand challenges of our time.
UD has maintained a long and vibrant tradition of public service. Just this year, we were recognized with two honors cementing this deep commitment.