Floating on Air: Matt Kay, BE15M
OUR STUDENTS | MBA student Matt Kay has opened the new East Coast Float Spa, and his clients feel like they are floating on air.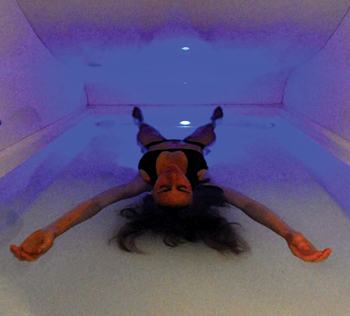 Photo courtesy of Matt Kay
Kay's spa offers therapeutic floating, in which each client enters a tub of water containing more than 1,000 pounds of Epsom salts. This dense mixture allows the client to float effortlessly in the water, inducing a state of deep meditative relaxation and alleviating physical discomfort.
Kay discovered therapeutic floating as a natural pain reliever and alternative to painkillers after a serious car accident left him with chronic pain.
Now, Kay helps others to access the physical and mental benefits of floating, known scientifically as restricted environmental stimulation theory or REST.
Opened in September in West Chester, Pennsylvania, the East Coast Float Spa features three "float rooms" and is one of fewer than 15 spas in the country with such facilities.
"This is an environment that removes all of the noise and distraction from the world," Kay said. "You achieve a level of relaxation physiologically that you can't in any other way. This can help heal physical pain as well as really be beneficial for mental health."
Kay worked with UD's Horn Program in Entrepreneurship to create his business, participating in the Startup eXperience and VentureOn programs and utilizing media resources at the Venture Development Center to create promotional videos and print material.
Now that the East Coast Float Spa is in action, Kay feels the proudest of his work when he receives positive feedback from clients.
"Being able to really help people is what I'm most passionate about and what interests me the most," he said. "That's why we do this."
Article by Sunny Rosen, AS14