New PhD program pioneers 'Big Data' solutions
OUR STUDENTS | The University of Delaware's new PhD program in Financial Services Analytics (FSAN) has gotten off to a strong start.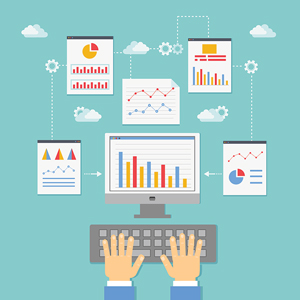 Thinkstock.com
The unique program, a collaborative effort between JPMorgan Chase & Co., the Alfred Lerner College of Business and Economics and the College of Engineering, teaches students to become experts at researching and analyzing large swaths of electronic information, known as "big data" in the business world.
"I love how UD was able to merge finance, data mining, statistics and other areas to create the FSAN program," said Leonardo De La Rosa Angarita, a current FSAN student. "This is also reflected in the diversity of the students. We come from different fields, and it is wonderful how we are able to complement each other in so many different ways."
Long Chen, another FSAN PhD student, said, "After I joined the program, I expected to learn about a broad range of disciplines to fill my toolkit, and that is exactly what we are doing—taking courses from the areas of finance, statistics and computer science. Although the program just started, I can tell we are heading in the right direction."
Bintong Chen, Director of the FSAN program, said that students are trained as researchers and professionals who play key roles in interdisciplinary teams, applying their knowledge and skills to convert vast amounts of data into meaningful information for businesses and consumers.
Bintong Chen added that the first semester put students' skills to the test, "due to the intensity and breadth of the core classes designed for the program, ranging from very technical subjects, such as machine learning and data mining, to very business-oriented topics about financial institutions."
Students are interacting with JPMorgan's Corporate and Investment Bank during the spring semester to identify topics for their research projects and potential summer internships.
"I always wondered what would happen if engineers and economists would speak the same language, if professors would be more open to the world outside the walls of their offices and if industry would get more interested in what we study in our classrooms," said Eriselda Danaj, another student in the program. "It is challenging and I love it."
Article by Sunny Rosen, AS14