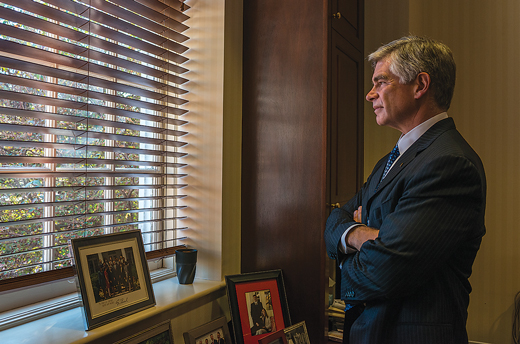 From Our President
Over the past eight years, I've had the profound privilege to lead one of the great institutions of American higher education. And what makes the University of Delaware stand out is as simple as it is complex. It's you—the talented and dedicated students, faculty, alumni, staff, friends, partners and parents who comprise UD and believe so deeply in its future. It has been an honor to get to know you and your passion for the University.
While this issue of the Messenger marks my last as president, the University of Delaware will always hold a special place in my heart. Together we have accomplished much – facing challenges, crafting solutions, maximizing opportunities and ensuring the future of this noble institution. It truly has been an honor to serve as your president, and I look forward to seeing all that this extraordinary University will continue to achieve.
Indeed, our success begins with our people, and in this issue, we celebrate them—the UD students and faculty who are helping to change the world. We celebrate our pride—especially that of our alumni and friends who invest in our University through engagement and philanthropy. We celebrate our progress—the strides taken from a proud past toward an even more vibrant future. Most importantly, we celebrate our institution—one that has inspired and educated so many.
You will see some changes in this issue of the Messenger to align with this feeling and direction. By highlighting our students, our faculty, our campus, our alumni and friends and, of course, our UD, we focus on the heart of this University.
The passion, pride and progress that are synonymous with UD are also at the core of our feature spread in this issue, Celebrating the Women of UD. In this moving piece, you will not only learn about the 100th anniversary of the Women's College, but you will also take a journey along a comprehensive timeline of the important roles women have played in the University's history.
Thank you for being part of our history, and for allowing me to be a part of yours.
In celebration of UD,
Patrick T. Harker
President, University of Delaware