Between the Covers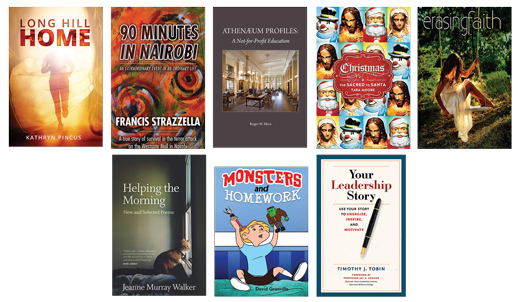 Deborah C. Andrews, professor of English, Shopping: Material Culture Perspectives, University of Delaware Press
Timothy Gager, AS83, The Thursday Appointments of Bill Sloan, Big Table Publications
Dave Granville, AS77, Monsters and Homework, Tate Publishing
Robert L. Hampel, professor of education, Paul Diederich and the Progressive American High School, Information Age Publishing
Jan-Christopher Horak, AS73, Saul Bass: Anatomy of Film Design, University Press of Kentucky
Jeff Joireman, AS92M, 96PhD, How to Publish High-Quality Research, American Psychological Association
Arthur L. Joyce, AS80, El Pueblo de la Tierra Cielo: Arqueologia de la Mizteca de la Costa, Centro INAH Oaxaca
Julianna Johnson Liscio, AS13, Erasing Faith, Julie Johnson (self-published on amazon.com)
Tara Moore, AS06PhD, Christmas: The Sacred to Santa, Reaktion Press
Roger W. Moss, AS72PhD, Athenaeum Profiles: A Not-for-Profit Education, Oak Knoll Press
Kathryn Kelly Pincus, AS88, Long Hill Home, Koehlerbooks
Barbara Proud, AS78, First Comes Love: Portraits of Enduring LGBTQ Relationships, self-published
Francis Strazzella, AS73 90 Minutes In Nairobi, self-published
Susan H. Swetnam, AS72, 74M, Books, Bluster and Bounty: Local Politics and Intermountain West Carnegie Library Building Grants 1898-1920, Utah State University Press. This book has been awarded the Idaho Library Association's Idaho Book of the Year Prize.
Timothy Tobin, AS90, Your Leadership Story: Use Your Story to Energize, Inspire and Motivate, Berrett-Koehler Publishers
Jeanne Murray Walker, professor of English, Helping the Morning: New and Selected Poems, WordFarm
Carl Evan Wittbecker, ANR74, Stranded in 1967 Vietnam— Recollections of an Irregular Army Guy, CreateSpace
Have you written a new book? Send the information to TheMessenger@udel.edu and we'll include it in the "Between the Covers" section.