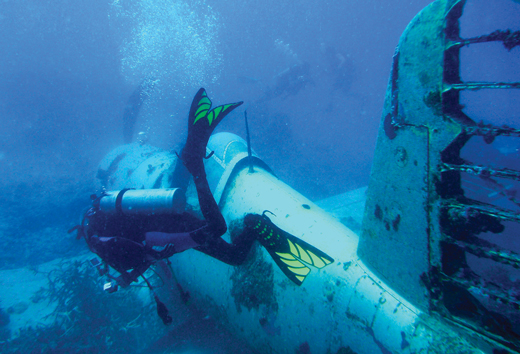 Photo courtesy of Matt Moline
A New Home for Aquatic Robots
OUR FACULTY | Blue Hens can be found all around the world, and so too can UD's aquatic robots—deployed on missions from Antarctica to the Arctic, Canada to the Caribbean and California to Cozumel.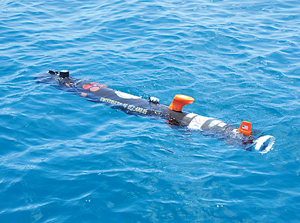 Photo courtesy of Matt Moline
The College of Earth, Ocean, and Environment now has a new home for these world travelers. Opened this past fall, the Robotic Discovery Laboratory (RDL) will consolidate the college's environmental robotics capabilities and bring together a variety of research technologies.
Housed on UD's Hugh R. Sharp Campus in Lewes, Del., the RDL connects the research of multiple faculty members under one umbrella to carry out a broad range of missions—fostering collaboration, coordinating operational logistics and facilitating the management of large data sets.
The robotic fleet includes more than a dozen systems, including unmanned underwater vehicles (UUVs) and unmanned aerial vehicles (UAVs). The UUVs can map and measure, record video, capture photos and side-scan sonar images. The UAVs, or flying drones, can be used to survey coastlines, marshes, beaches and more.
Current robotics projects include searching for downed American aircraft from World War II in the Pacific Ocean, assessing the impact of physical processes on penguins in Antarctica (see page 16), quantifying dredge impacts on scallop harvesting in the mid-Atlantic and managing environmental resources at Assateague Island National Seashore.
The RDL is the first of several environmental technology projects under consideration for expansion to UD's Newark campus. Future efforts will focus on increasing UD's capacity in unmanned systems, environmental monitoring and sensor development. Industry collaborations are key to this effort and help to provide experiential learning opportunities and internships that keep students at the forefront of their desired field of study.
PHILANTHROPY AT WORK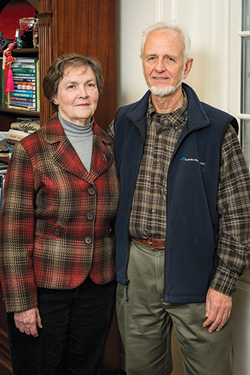 Photo by Evan Krape
UD alumni, friends and industry partners have been instrumental in supporting the RDL's growing fleet. Last year, philanthropic commitments from Charles and Patricia (Pat) Robertson, AS72M, and support from corporate/industry sponsors, such as UTEC Survey, Kongsberg-Maritime and Teledyne Gavia, among others, enabled the college to diversify its environmental robotics fleet.
"We focus our giving on education, the sciences and technology because those are the causes we believe in. UD researchers are really digging into what's going on under the ocean using the latest technology. So it's satisfying for us to support an entire project—the personnel, the hardware, everything—and see it prosper," said Charles Robertson.
To learn more about these initiatives, contact TJ Cournoyer, CEOE director of development, at tjc@udel.edu or visit www.ceoe.udel.edu/robotics.