OUR CAMPUS | The University of Delaware released a draft of a revised master plan for the Science, Technology and Advanced Research (STAR) Campus this past November. Envisioned to become a center of innovation, focused on leading research in areas such as health science, cybersecurity and alternative energy, the STAR Campus will provide educational and professional opportunities for UD students while fueling job and economic growth within the state.
Yesterday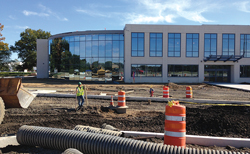 Five years ago, UD purchased the 272-acre property that had been the site of Chrysler's Newark Assembly Plant. When the plant closed in 2008, there was little chance that another large employer would take Chrysler's place. The empty site threatened to be a drag on the region's economy for decades to come. But out of this dramatic shift emerged an opportunity—one that, as President Patrick Harker said at the time, only comes along once in a lifetime. UD seized that opportunity.
"We cleared a million square feet of the site. We recycled 140 million pounds of steel, 50,000 tons of concrete, 40,000 light bulbs and almost 4 million pounds of copper, aluminum and stainless steel. We incorporated much of the old Chrysler administration building, including a mural of the vehicles produced there, into our new Health Sciences Complex."
—President Patrick Harker
Today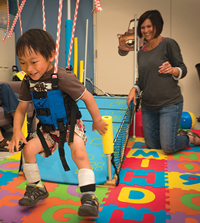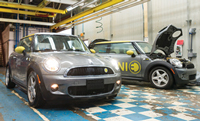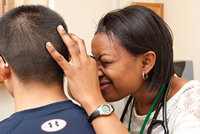 The University has opened the Health Sciences Complex, the first University facility on the STAR Campus, home to the Nurse Managed Health Center, the Physical Therapy Clinic and the Delaware Rehabilitation Institute.
More than 300 patients a week come to these centers, as word spreads in the community about their high quality of care. Our research labs are focused on the kind of work that can change lives for the better.
The GoBabyGo! lab gives kids with disabilities the mobility they need to socialize, learn and grow. And the BADER Consortium is improving orthopedic rehabilitation for wounded troops and others with missing limbs. Elsewhere on the site, we continue researching and perfecting our grid-integrated vehicle system. And, working with others, we're bringing top-notch resources to the STAR Campus to become leaders in the cybersecurity field.
Tomorrow
The future of STAR is based on our 3+1 Strategy—combining our strengths in health and life sciences, energy and the environment, and security & defense with the site's infrastructure and location.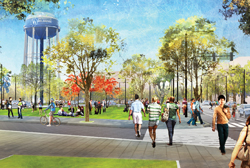 The latest draft of the master plan focuses just on the 65 acres in the northeast corner, anchored by the train station and the Health Sciences Complex.
"We had a couple of principles in mind when we sketched out this plan. First, we don't want to be just landlords. The STAR Campus is all about fulfilling our three-part land-grant mission of scholarship, research and community service."
—President Harker
All future tenants will offer educational, research or intern experience to UD students. The focus is on seeing a density of people—especially those from different fields—interacting with each other, talking about their latest projects over a cup of coffee. While Skype and conference calls are good for getting business done, they're not very useful in making new connections. That has to happen in person. The University is developing this site to benefit not only our students and faculty but also the entire region.
Fully built out, that 65-acre corner of the STAR Campus would contain about 5½ million square feet of space for research, community service and commercial enterprises—roughly equivalent to all of downtown Wilmington.
Our vision will take shape over the next 50 to 100 years. We are building something truly incredible at the University of Delaware. To learn more visit the STAR Campus website at udel.edu/star.