Farewell to Rodney and Dickinson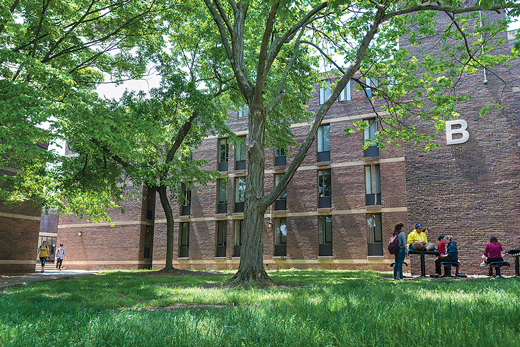 OUR CAMPUS | For generations of UD students, the John Dickinson and Caesar Rodney Residence Hall Complexes were at the center of the freshman year experience. These memories are now bittersweet as the University announced plans in November to close both complexes in May 2015, at the end of spring semester, eliminating the entire West Campus.
Passionate UD alumni responded swiftly on social media to pay tribute to the buildings where they began their time at UD.
"There was something special about West Campus. It was the unique layout of those floors and the tight sense of community, the collective feeling of all being in the same West Campus boat together. We all knew someday Rodney and Dickinson's time would come, but the memories will live forever!" said Darren Kane, BE95, writer and editor of Glory Days at Delaware and MugNight.com.
Plans to close Rodney were discussed with the University's Board of Trustees and reported by The Review last spring. UD officials then determined that Dickinson would also be shuttered, as both are reaching the end of their useful lives as high quality housing.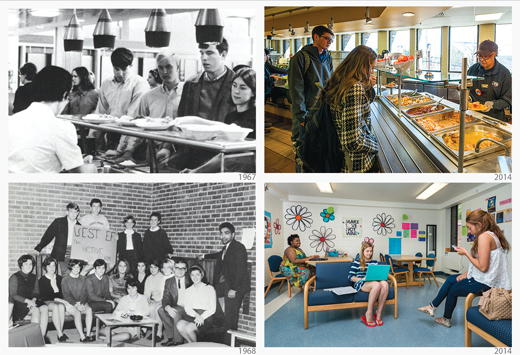 "Due to their age, the Rodney and Dickinson Complexes' infrastructures and systems will continually be susceptible to failure," said Alan Brangman, vice president for facilities, real estate and auxiliary services at the University. "We will continue our commitment to maintaining the buildings with 100 percent service and attention through the end of May, when they will be shuttered."
Constructed in 1966, each complex houses over 700 students. The residences have historically housed freshmen, at a time in their lives when they establish early and lasting social connections. This factor, combined with the fact that the buildings' layouts make them conducive to socializing, have made them popular residences with Blue Hens.
"I don't know anymore the 18-year-old I once was the September day I walked into Dickinson D dorm. I do know the 42-year-old I am now and how that single year shaped my life and forever will. In that year on that floor, I met three best friends who would become my forever family," said Melanie Wartenberg, AS94, in response to the announcement.
While the loss of such iconic buildings is a loss for UD alumni, the transition will be beneficial for current and incoming students.
"For nearly 50 years, Rodney and Dickinson residence halls have served UD students well, providing strong social and academic communities, comfortable housing and positive experiences building lifelong friendships," said Kathleen Kerr, executive director of residence life and housing at the University. "However, moving students out of Rodney and Dickinson is in the best long-term interests of our students and campus community in terms of sustainable growth and campus engagement.
We are strengthening and expanding our 'first-year neighborhoods' and ensuring students will be able to more easily connect with others as well as to campus resources and staff."
Construction is nearing completion for a new Academy Street Dining and Residence Hall Complex (ASDR) and a renovated Harrington Complex, both set to open in fall 2015, providing brand new housing for freshmen. ASDR will feature a large lounge area similar to Dickinson's, plus a 50,000-square-foot dining hall able to seat 1,180 diners, one of the largest dining halls on the East Coast, according to current plans. Harrington will have updated finishes in the residential spaces and a revitalized commons with a fitness area, food market, several lounges, quiet and group study space and air conditioning.
"Overall, the housing changes we are making next fall, coupled with the addition in 2013 of Louis Redding Hall and Eliphalet Gilbert Hall, are helping to facilitate a more cohesive, integrated campus experience," said Kerr.
According to officials, the West Campus buildings will be shuttered but not immediately demolished.
"While we have no immediate plans for the use of West Campus buildings, we are considering potential opportunities," said Brangman. "We will ensure the buildings' future fits within the University's strategic plans and will be sensitive to the needs of our neighbors and the city of Newark."