Paying It Forward:
Internships for UD students
Grace T. Leong, AS88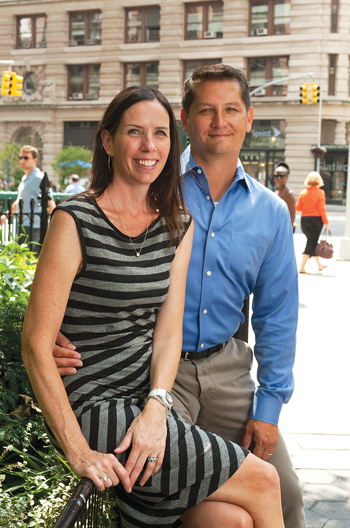 Photo by Kathy F. Atkinson
ALUMNI & FRIENDS | The University of Delaware has played a pivotal role in Grace Leong's career, and now, as the managing partner of a successful New York City public relations firm, she is paying it forward.
As an undergraduate at UD, Leong, AS88, won the Hal Kierce Award as the year's top public relations student. D-A-Y/Ogilvy Public Relations executive Barbara W. Hunter created the award to honor a deceased co-worker. When Leong graduated, she joined Hunter at D-A-Y/Ogilvy in New York City. A year later, when Hunter founded her own agency, Leong followed her to the new Hunter Public Relations.
It was a move that would lead to many career opportunities fo UD students.
"One of the reasons I was able to secure my first job is that I had internship experiences as a student at Delaware—experiences that are so important as a steppingstone into a career," Leong says. "I always said that if I had the opportunity, I'd help other students in that same way.
"So I was a fan of UD, my boss [Hunter] was a fan of UD, and we began offering internships to UD students. You can't help every student trying to break in to public relations, and you can't always give money, but bringing students into the workplace and giving them that experience is something that's really easy to do."
Over the years, more than a dozen UD students benefited from Summer and Winter Session internships at the agency's New York City headquarters, and some went on to begin successful careers there. When Hunter retired in 2000, Leong bought the firm.
For Hunter PR's 25th anniversary in 2014, Leong created the Barbara W. Hunter Internship to provide a selected UD intern with a cash stipend to help offset the cost of living in New York City.
"With the stipend, the UD student who carries the distinction of being the Barbara W. Hunter intern can experience New York and its culture, because that's part of the PR business," Leong says. "I always wanted to go one step beyond for Delaware kids."
The first Barbara W. Hunter intern will work at the firm this summer.
Hunter Public Relations has about 110 employees in offices in New York, Miami, Los Angeles and Toronto. It provides marketing communications services to well-known consumer products companies and brands, with clients that include Kraft Foods, Mondelēz, McNeil Consumer Health Care, Diageo, Hasbro and 3M.
Article by Ann Manser, AS73