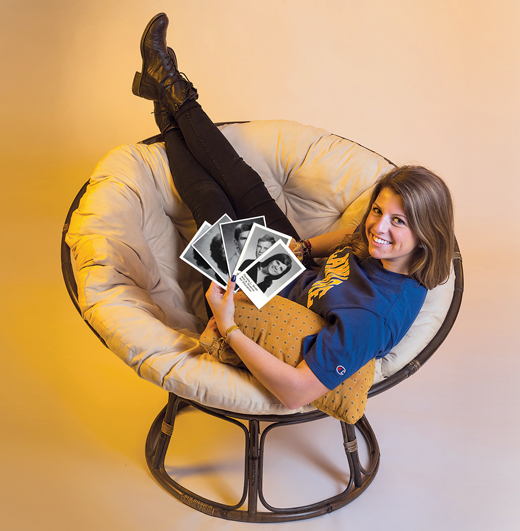 ALUMNI & FRIENDS | For Anna Green's family, Blue Hen pride runs wide and deep.
Twenty-five of Anna's relatives, spanning three generations, call the University of Delaware their alma mater—one brother, two aunts, three uncles and 19 cousins!
"When I was researching colleges, my family obviously had a big influence on me. Having so many alumni in the family, and growing up in the state of Delaware, I couldn't go wrong here," said Anna. "Seeing how successful my family members have been after graduating, and hearing their incredible stories—that I continue to hear to this day—makes me realize how lucky I am to be here, and that I get to share in those memories."
From Georgia, Virginia and the surrounding Mid-Atlantic states, Anna's family often makes the trip back to Delaware Stadium for Blue Hen football. "Every home game we set up a tent in the Gold lot, right by the stadium. My aunts have parking spaces, and I bring my friends so we can all tailgate together. My entire family grew up around Delaware, so we live and breathe Blue Hen pride. And football is one way we definitely stay connected."
In addition to the proud UD alumni in her family, Anna shares her current UD experience with cousins and fellow students, William Ryan, BE17, and Joseph Echevarria, BE18.
"As of right now, there are three of us attending UD, and I think that will continue in our family; there's such a long line of us. I have a lot of younger cousins, and many in high school looking at colleges, and we're such a big influence. I think that really impacts their decisions."
As younger members of the Green family consider UD as their university of choice, Anna is focused on her studies and her future. A junior who spent the 2015 Winter Session studying abroad in Quito, Ecuador, Anna is a member of the Sigma Kappa sorority and was a recipient of the Howard L. Robertson Sr. and J. Jesse Selinkoff Memorial Scholarship in 2013 and 2014. She plans to pursue either medical or dental school after graduating from UD.
"More than anything else, I chose UD because of the value of the education," said Anna. z
Article by Christopher Hannigan, AS14
This new recurring feature celebrates the students, faculty, staff, parents and alumni who come from a long line of University of Delaware graduates. Known as legacy families, they are tied together in the Blue Hen spirit.
To nominate someone to be featured, email themessenger@udel.edu.