A 'Pawn Star' is born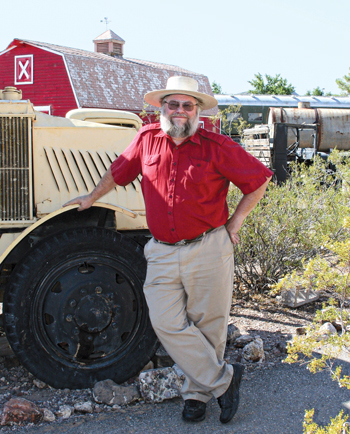 Photo courtesy of Mark Hall-Patton
ALUMNI & FRIENDS | Museum director Mark Hall-Patton has spent more than three decades sharing his knowledge of the past, but thanks to a TV reality show, he is now making some history of his own.
Pawn Stars, the popular History Channel show about a Las Vegas pawnshop and its offbeat operators, has turned Hall-Patton from what he calls "the most anonymous person you could think of—a museum administrator" into a bona fide celebrity who's appeared as a guest expert on more than 140 episodes. With his full beard and Amish-style hat, he has long been a distinctive figure at the museums he leads in Nevada, but now he also can be recognized by viewers in the 151 countries where Pawn Stars airs, dubbed into 32 languages.
"This has been completely surreal," says Hall-Patton, who attended UD's graduate program in museum studies from 1976-77. "As a museum director, you're generally totally unrecognizable. Now, my wife and I can't go out to eat without being recognized, and people email me from all over the world."
None of this would have happened, he says, without his education at the University of Delaware.
In 1976, as Hall-Patton was completing his senior year as a history major at the University of California at Irvine, he stopped by a professor's office and began talking about the uncertainty of his post-graduation plans. The professor, he says, "rummaged around in a desk drawer and handed me a pamphlet" about museum studies at UD.
Hall-Patton says he immediately recognized museum work as a field that would suit his interests. He applied to the program, was accepted and drove his pickup truck across the country that August to Newark.
"It was a wonderful program, and it was perfect for me," he says. "I wanted to run museums, not be a curator, and the UD program offered great classes and brought in top experts in the field to speak to the students. It really helped me understand the whole philosophy of museum work."
Financial issues led him to take an internship at a museum back home in California instead of finishing the program, he says: "I wish I had gotten my master's degree, but there's no question that my time at UD put me in the field I've been in for 37 years. Without Delaware, I absolutely wouldn't be where I am today."
He also might not look exactly like he does today. On weekends at UD, Hall-Patton and his roommate would often visit flea markets in Dover, where he took a liking to the hats he saw the Amish merchants wearing. He says he couldn't afford them at the time, but several years later he bought his first authentic hat from a store in Lancaster County, Pennsylvania, and he's adopted the style—he already had the beard—ever since.
After working at a variety of museums, Hall-Patton came to Las Vegas 21 years ago to create the Cannon Aviation Museum, part of Clark County's system of three museums. For the past eight years, he's been the director of all three facilities.
He was known in the area for his professional work and his appearances on a local-access TV station, promoting the museums to residents and tourists, when the History Channel came calling in 2009. Pawn Stars, which specializes in assessing and appraising unusual items that are brought into the shop, had an old military uniform the owners needed an expert to examine. Hall-Patton told them that he'd do some research and go on camera to discuss the uniform's history and authenticity but that he wouldn't put a monetary value on it.
"That's not what I do," he told the show's producer.
"Well," he recalls the man saying, "we'll try you anyway."
Since then, he's appeared in short segments on about 30 percent of the episodes. He generally receives an email about the item he'll be asked to discuss ("usually with a bad photo attached") and then begins his research. He says he has contacts across the U.S. on whom he can call for expert advice, and his personal library of 20,000 books is invaluable. He then drives to the pawnshop for his segment of the show, which he says is always unscripted.
"They never know what I'm going to say, but they know that by the time I get there to start filming, I'll know what I'm talking about," Hall-Patton says. "I call myself 'the cleanup historian' because I don't have a specialty. If something interests me, I'll go out and research it. I've always done that for myself, and now I do it for the show."
Although the pawnshop owners provide plenty of humor, and Hall-Patton projects a genial image, he takes his role seriously. He feels that he's representing the museum profession on the show, as well as educating viewers about history, and those are his two passions.
Meanwhile, he has no plans to quit his day job at the museum complex, and he and his wife, Colleen, a professor at the University of Nevada Las Vegas, still try to enjoy a private life.
"I'm about the unlikeliest celebrity you could ever run into," he says. "I'm pretty boring, I don't follow sports or politics. I really only know history."
Article by Ann Manser, AS73